NBC Insider Exclusive
Create a free profile to get unlimited access to exclusive show news, updates, and more!
Sign Up For Free to View
Blake Shelton Didn't Recognize a Camila Cabello Song—In Front of Camila Cabello
"This is going to be a really fun season!" Cabello reveals.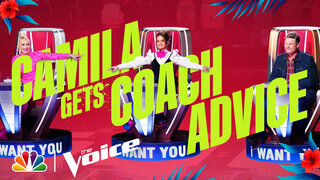 The Voice Season 22 is quickly approaching, and lucky for fans, we have our first look at all of the action!
Seven-time Coach John Legend, six-time Coach Gwen Stefani, and Season 1-21 OG Blake Shelton sat down with The Voice's newest Coach, Camila Cabello, to give her some inside tips. Their chat has us stoked for The Voice's Season 22 premiere, so here are the highlights from Cabello's Q&A and the Voice Coach tell-all.
Cabello asked the Coaches, "What is something that you weren't expecting that you found out from being on The Voice?"
Legend: "I think that the Blinds are really fun. You'll start to, like, calibrate what you like. So you start out like, 'Am I being too picky? Am I being too easy on people?' And then you'll figure out what your zone is. But then you think you know the Artist, and then they'll go to Battles, and you have no idea."
"For me, most of the time, they're more talented than you think," Stefani revealed, alongside a clip of a show-stopping Season 22 Artist who we're bound to see more of this season. 
"A lot of the time, it's about the right song," Legend continued. "It's about the right combination, the right context. And I would like to think we're good Coaches, too. So we actually help them get better, too." 
Stefani: "That's my favorite part of the show, is to watch them [the Contestants] grow. And that you had anything to do with it at all, even if it was just like, helping them have confidence, it's pretty awesome."
Cabello asked the Coaches to reveal what they love most about being on The Voice.
"You're always happy when it gets to the Lives," long-timer Shelton explained. "And it's out of your hands at that point."
Legend then revealed the most difficult part of coaching: sending Artists home. "Because you went through all of that to get them on your team. When we turn for them, we don't know any of their backstories, either. There's so much we don't know about them. And then once you start to get to know them and you know about their families and what obstacles they've overcome to be on the show."
Stefani explained that the beauty of The Voice is that it's a power exchange, from our star-studded lineup of Coaches to the Artists themselves. It's a back-and-forth dynamic that has proved successful time and time again. 
Cabello then asked Shelton, Legend, and Stefani a question she has a bit of experience with: "How do you pick your Advisors when you get to Battles?"
Legend reminisced about choosing Cabello as his Battle Advisor for Season 21 of The Voice, which is when Cabello was bitten by the coaching bug. "I sealed my own demise by picking my new opponent," Legend teased before adding, "You're like, 'Will they mean something to the public? Will they mean something to our Artists? Will our Artists get excited? Will the public get excited?'"
"At some point, I ran out of influences," Shelton revealed. "And then I ran out of just friends that were Artists. And so I just started swinging for the fans. I remember saying, 'Get Cher.' And they got Cher!"
Cabello concluded the sit-down with the most crucial question, "What do you guys think is the number one thing that you need to be a good Coach?"
"I think you have to love good music," Legend explained. "You still have to have, like, inspiration and joy in music. I feel like this show helps me keep that going."
Shelton said, "I think the willingness to be real with those Contestants or Artists on your team. Because it's real easy to just play to the camera and say what you think is good for the show. But it's hard to look someone in the eye and say, 'Man, I'm just telling you right now,' whatever the bad news is. And not worry about coming across how you're gonna come across on TV."
Fun fact: Shelton first heard Cabello's music during a Season 22 Blind Audition
The sneak peek ends with Cabello reacting to a mysterious Artist auditioning with one of her songs. "That was the first time Blake has heard any of my songs!" she reveals to the Coaches and audience's amusement. "I looked over, and I thought, 'She knows every word to this song.'" Shelton says. "I said, 'Do you know this song?' She goes, 'It's my song.'"
"I was just happy he wasn't like, 'This song sucks,'" Cabello explains, with the Coaches and audience in stitches. 
The Voice Season 22 premieres Monday, September 19 at 8/7c on NBC and the next day on Peacock.