NBC Insider Exclusive
Create a free profile to get unlimited access to exclusive show news, updates, and more!
Sign Up For Free to View
Why John Legend Says Morgan Myles' Audition Was One of the Best He's Seen
He specifically said Myles had cajónes for doing what she did.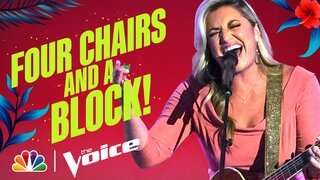 Morgan Myles was the first Blind Audition for The Voice Season 22, and she certainly didn't disappoint. Delivering a breathtaking rendition of Leonard Cohen's "Hallelujah," Myles was so good, all four Coaches' chairs turned, and Camila Cabello used her only Block of the season on her. (Sorry, Gwen Stefani!)
But the move paid off: Myles decided to go Team Camila, and it seemed to be because she's curious about blending genres in her artistry, something Cabello is familiar with. "She has this pop sheen to her voice, and she was just so in the emotion of it," Cabello said about Myles. "She's a dream Artist." 
Related: John Legend Says The Voice Coaches Should 'Look Out' for Camila Cabello
A dream Artist and also a risk-taker—no doubt a reason John Legend dubbed Myles' Blind Audition "one of the best [he's] seen in quite a long time." 
"I feel like we don't get a lot of people singing that song just because it's so intimidating," he said. "It takes some cajónes to come here and sing it with such confidence. Then we got to see your range and you hitting those peaceful, beautiful notes. It was exquisite."
And the praise kept coming. "You have such a gorgeous tone," Cabello told Myles. "I want to hear records from you. You kind of have [a way], in a Rihanna-esque way, of singing with your hands. I was like, 'Yes, that is what I'm looking for.' She is singing with her soul and making people feel and, to me, that is the highest hope of an Artist. You know who you are as an Artist, and if you picked me as a Coach, I would just be excited to help you on that Journey."
Blake Shelton added, "Your gift is you can make people really believe what you're singing about, and you just need somebody to help you on that journey. I would be honored to be that Coach for you, Morgan." And get this: Stefani told Myles she sounded like she was "on a Grammy stage already—it's ridiculous." 
That Grammy stage may be in Myles' future—but she has a few stages on The Voice to get through first. Will she make it to the end? To find out, watch The Voice on NBC Mondays and Tuesdays at 8/7c and next day on Peacock.