NBC Insider Exclusive
Create a free profile to get unlimited access to exclusive show news, updates, and more!
Sign Up For Free to View
Blake Shelton and John Legend Being Roommates Is Hilariously Chaotic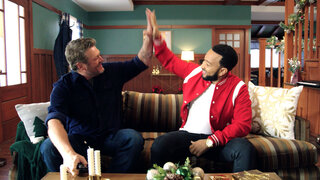 If you think Blake Shelton and Gwen Stefani have the best chemistry on The Voice, then get ready to make room for a new pair. During the Season 22 Live Finale, The Voice gave us a hilarious scenario we didn't know we needed: What if Blake Shelton and John Legend were roommates? Better yet, they showed this skit in a classic sitcom style—theme song and laugh tracks galore.
The episode started with Legend and Shelton getting ready for a holiday party, with Shelton placing a cowboy hat on top of their Christmas tree. When Legend contested, Shelton insisted that the decorating took him hours.
"Blake, you did not spend hours on this tree. You have really got to stop lying," Legend responded in frustration, prompting a series of "ooos" from the audience.
When Legend asked where Shelton got the tree, Shelton said, "The neighbors threw it out last year, so I grabbed it! Isn't it awesome?"
"Well, at least my side of the room looks good," an exasperated Legend sighed.
As they continued to plan their party, Shelton said he made his world-famous holiday dip. "The last time you made dip, I ended up in the emergency room, Blake," Legend said.
"I still don't think that was the dip," Shelton said with a shrug.
While Legend attempted to clean up, he asked Shelton if the invite list was sent out. Shelton's eyes then widened. "Yes, of course, it's all taken care of," he said nervously. After Legend left the room, Shelton made a confession.
"I wonder if he'll be mad that I forgot to send out the invites…" he said towards the cameras while suspenseful music played.
So funny! Watch The Voice on NBC Mondays and Tuesdays at 8/7c and next day on Peacock.