NBC Insider Exclusive
Create a free profile to get unlimited access to exclusive show news, updates, and more!
Sign Up For Free to View
Why Gwen Stefani Says Blake Shelton Is 'the Real Deal' on The Voice
He has won the show eight times!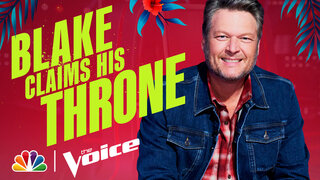 The Voice Season 22 premieres Monday, September 19 at 8/7c on NBC (plus next day on Peacock), and fan-favorite Coach Blake Shelton is returning to his red chair. 
"Voice fans, your favorite country Coach is back, and I'm ready to win this thing," Shelton says in a promo, which you can watch, above. "Watch out, other Coaches, especially you, Camila [Cabello]! Here comes Season 22."
In the promo, the audience is seen going crazy for Shelton as he enters The Voice arena. "We're all recharged, ready to get back at it again, and I miss this place," Shelton says.
Voice fans are well aware of Shelton's hilarious humble-bragging. "I won this show eight times," he says in the promo. "Which is four times as much as all of these other Coaches combined."
"Married or not, I think that everyone wants to go against Blake. Everybody wants to beat Blake," Shelton's wife and fellow Voice Coach Gwen Stefani says. "So far, he's been tame. He hasn't figured out who he wants to fight with yet."
The Voice is always high stakes, but the love is always strong among the Coaches (even with the playful jabs). "Blake makes it really, really fun," Cabello says. "He actually makes me almost cry with laughter... He is so funny; he's one of the funniest people I've met."
"I know Blake so well," Stefani adds. "And what he does for some of the Contestants in the past 22 seasons, he really does help people. This is the real deal, this guy." 
"The thing that keeps me coming back to The Voice year after year is that it's never the same thing," Shelton says. "New people create a completely different scenario every time, and I learn something every year from these people... At the end of the day, I end up a better Artist, and I love the fact that I still get to learn."