NBC Insider Exclusive
Create a free profile to get unlimited access to exclusive show news, updates, and more!
Sign Up For Free to View
Howie Mandel Stopped by The Voice Finale to Give Camila Cabello a Comedy Lesson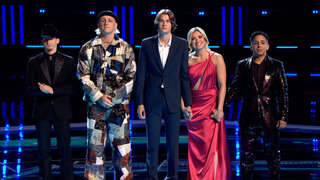 Ever since Camila Cabello has joined The Voice, she's made viewers laugh with her witty banter with Blake Shelton. But can she take her sense of humor to the next level by mastering the art of standup comedy? America's Got Talent's Howie Mandel will be the judge of that.
"I think of myself as a pretty funny person, but this season, the audience didn't always think so," Cabello told the cameras during the finale. "Will you guys please laugh at one of her jokes? Just one of 'em," Shelton asked the crowd after Cabello made a comment that didn't exactly land. Luckily, Mandel came to the rescue to give Cabello a three-minute masterclass on how to be a comedian.
First, he gave her a lesson on how to deal with hecklers. "You gotta be able to come right back," he explained to Cabello.
"You're not funny!" Cabello then exclaimed, pretending to be someone in a crowd. "You're a banana!" Mandel swiftly responded, prompting a puzzled look from Cabello.
He then gave Cabello a rundown on how to have stage presence. During the bit, they prowled around the room, pointing to random locations and saying, "You're a banana."
"You know, Camila's not a natural, but I can teach anyone," Mandel joked.
When it was time to show her the art of voices and impressions, Cabello previewed an impressive Britney Spears impersonation. They then played around with props, including a rubber chicken and long balloons. "His methods do feel a little strange to me," Cabello said. "But, you know, best not to question them, he's a pro. He knows what he's doing. Right? Right?"
Mandel then sent Cabello off to hone her craft. "Banana?" she inquired.
"You're ready. Go get 'em," Mandel responded with tears in his eyes.
"She's not ready," he then told the cameras.
"After seeing that, I don't think I'll ever tell another joke again," Cabello cheekily responded after watching the clip. 
Watch The Voice on NBC Mondays and Tuesdays at 8/7c and next day on Peacock.