NBC Insider Exclusive
Create a free profile to get unlimited access to exclusive show news, updates, and more!
Sign Up For Free to View
Blake Shelton Reveals the Voice Coach Trait Both Camila Cabello and Kelly Clarkson Have
"Have you met Camila? She's got a lot to say," Shelton told Jimmy Fallon.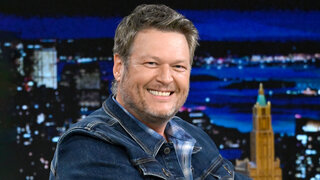 With the premiere of The Voice Season 22 coming up on Monday, September 19 at 8/7c on NBC (and next day on Peacock) we're just days away from seeing our favorite Coaches compete with their talented teams once again. 
In addition to Blake Shelton and John Legend, Gwen Stefani is returning to the series along with newcomer Camila Cabello. Speaking of Cabello, Shelton revealed his thoughts about the freshman Coach during a September 8th appearance on The Tonight Show Starring Jimmy Fallon.
"Have you met Camila? She's got a lot to say, that girl," the country singer joked. "I mean she talks a lot. Kelly's [Clarkson] not on this season, but [Cabello] makes up for it. Camila has a lot to say."
In a recent promo for The Voice, Cabello spilled that she's become well-acquainted with Shelton's light-hearted side while filming.
"Blake makes it really, really fun," she said. "He actually makes me almost cry with laughter... He is so funny; he's one of the funniest people I've met."
A sneak peek at the Blind Auditions already showed fans what we can expect about the two Coaches' hilarious dynamic. As it turns out, one performance from the season marked a big milestone between Shelton and the "Havana" singer.
"That was the first time Blake has heard any of my songs!" she revealed. "I looked over, and I thought, 'She knows every word to this song.'" Shelton says. "I said, 'Do you know this song?' She goes, 'It's my song.'"
"I was just happy he wasn't like, 'This song sucks,'" Cabello added.