NBC Insider Exclusive
Create a free profile to get unlimited access to exclusive show news, updates, and more!
Sign Up For Free to View
Camila Cabello Expertly Replied to Blake Roasting Her About Her Music Knowledge
Well, she does have a point!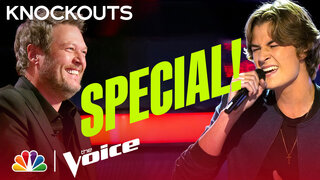 Blake Shelton and Camila Cabello may be in competition against each other as Coaches on The Voice, but it looks like they have a playful rivalry going on behind the scenes, as well.
In a new TikTok from set, you'll see Shelton decided to quiz Cabello on her '80s rock band music knowledge, asking her if she was familiar with the likes of Metallica, Guns N' Roses, and Van Halen. When the "Never Be the Same" singer said that she only know a few of their songs, Shelton shook his head in disappointment.
"People have given me crap over the years for not knowing certain songs, but Camila is next level," the country star said with sass.
However, Cabello did not let Shelton's comments get to her and quickly knew how to clap back. "One, I was not born in America. And how many songs from the past 30 years do you know, Blake? So, calm down, Abuelo" she cleverly responded.  
Related: Why Gwen Stefani Thinks Camila Telling Blake to 'Shut Up' Improved Their Dynamic
This isn't the only time we've seen Shelton and Cabello poking fun at each other backstage. In a behind-the-scenes clip, Shelton mentioned that Cabello seemed to be a little overdressed for coaching. Then, she made the perfect comment about his casual jeans and blazer outfit. "It feels like you tried really hard on the top half, then you were like, 'Eh whatever' on the bottom half by the time you got there," she teased.
To see Shelton and Cabello make even more hilarious jabs at each other, watch The Voice on NBC Mondays and Tuesdays at 8/7c and next day on Peacock.