NBC Insider Exclusive
Create a free profile to get unlimited access to exclusive show news, updates, and more!
Sign Up For Free to View
The Voice Coaches Reacting to Their Songs Being Performed Is Pure Joy (UPDATED)
Choosing to perform a Coach track is bold, but can be very rewarding!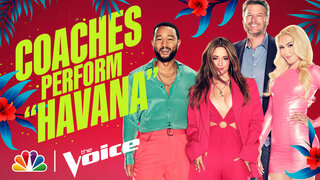 Performing on The Voice is always a feat of bravery, but choosing to sing a Voice Coach's song in front of them? That takes some next-level courage. 
The lineup of Voice Coaches have countless smash hits under their belts, so it's only natural for the Artists to choose some familiar tracks at some point. Performing these songs in front of the faces that skyrocketed them to fame can be risky but incredibly rewarding if done well. Whether the Artist serves a fun twist on the hit track or simply pays homage to the Coach's iconic style, watching the Voice Coaches realize that someone is singing one of their songs is always a blast.
Here are 10 times the Voice Coaches were wow-ed by ambitious Artists singing their original tracks.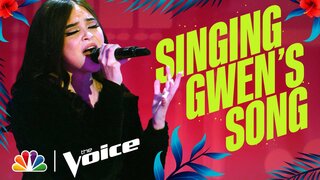 Artist: Alyssa Witrado
Season: 22
Witrado blew the Coaches away when she chose to perform No Doubt's "Don't Speak" during Season 22's Blind Auditions. Stefani recognized her track with the very first note, and Camila Cabello quickly smashed her buzzer to turn her red chair. Stefani was quick behind and squealing in delight while Cabello got on her feet to dance to the power anthem. "That was so surreal for me," Stefani told the 19-year-old singer "It's really a weird song. Its hard to cover it. It really did sound so good."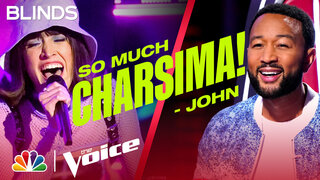 Artist: Nia Skyfer
Season: 22
"Oh my god, this is my song!" Cabello squealed as soon as Skyfer took the stage for the Blind Auditions, and she didn't disappoint the "Havana" singer. Delivering a high-energy performance while instantly connecting with the crowd, Legend was eager to turn his red chair for Skyfer after Cabello's team became full. "That's the first time someone sang one of my songs in the Blinds so that was really really cool," Cabello gushed, before adding, "Such a great feeling, that was also the first time Blake has heard any of my songs."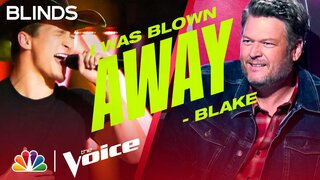 Artist: Bryce Leatherwood
Season: 22
It was love at first sight between Shetlton and his Season 22 winner-in-the-works Leatherwood when he chose to perform Shelton's rendition of Conway Twitty's "Goodbye Time" during Season 22's Blind Auditions. All but Cabello turned their red chair for the country singer, but it was no secret that Leatherwood was destined for great things. The first words out of Shelton's mouth were, "Welcome to Team Blake," and it just so happened that Leatherwood went on to take home the victory. 
Peyton Aldridge performed both John Legend's "All of Me" and Stefani's "Hollaback Girl"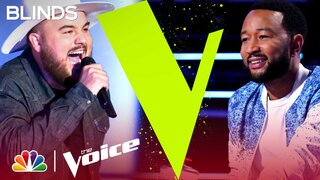 Artist: Peyton Aldridge
Season: 22
While Aldridge may have auditioned with The Marshall Tucker Band's "Can't You See," he ended up singing a few of the Coaches songs during the deliberation after Legend and Stefani both turned for the country singer. Aldridge broke into a rendition of Legend's "All of Me," inspiring Legend to jump onstage and get the crowd involved for the special duet, and even sang a little bit of "Hollaback Girl" at Stefani's request. 
Gymani gave a powerhouse performance of 

Ariana Grande

's "pov"
Artist: Gymani
Season: 21
Choosing to sing an Ariana Grande track in front of the "pov" singer is always a bold move, but Gymani smashed her performance out of the park. Many Voice fans would agree that Gymani undeniably gave the track a new perspective, with Grande and the fellow Voice Coaches praising the choice with a four-chair turn.
David Vogel's rock rendition of "breathin" left Grande speechless
Artist: David Vogel
Season: 21
Grande has become an icon within the industry for her pop and R&B influences. That's why when Vogel performed a modern rock rendition of her song "breathin" for the Season 21 Blind Auditions, it was as if the air was sucked out of the room as the audience jammed along. Ariana listened in awe before grabbing Vogel for her team. 
Holly Forbes Performs 

Kelly Clarkson

's "Because of You"
Artist: Holly Forbes
Season: 21
"Because of You" is a powerful song packed with emotion, and Forbes' performance of the Clarkson track was nothing short of perfection during her Season 21 run. Grande stood during the performance to show her love and praised the song from beginning to end. 
Grande screamed in delight during Sister Trio KCK3's "No Tears Left to Cry" Blind Audition
Artist: KCK3
Season: 21
Everyone loves a Voice group Blind Audition, with one of the most fun performances of Season 21 coming from the sibling trio KCK3 when they sang Grande's "No Tears Left to Cry." Not everyone can get Grande to scream out of happiness, but KCK3 made Grande instantly turn her chair.
Legend

instantly turned for Victor Solomon's rendition of Legend and Common's "Glory"
Artist: Victor Solomon
Season: 20
Choosing the song that won Legend the Academy Award that eventually attributed to his EGOT status is a bold choice. But the decision paid off for Solomon when he performed "Glory" during The Voice Season 20 Blind Auditions. Not only did it impress Legend, but Shelton also slammed his hand down on the buzzer to try to recruit Solomon for his team. 
Clarkson gushed over Kelsie Watts' take on 

Clarkson

's "I Dare You"
Artist: Kelsie Watts
Season: 19
"I Dare You" is a timeless song, and when Watts chose to perform the track in front of the American Idol winner herself for her Blind Audition, you could tell Clarkson was feeling all of the emotions. "That's my song!" Clarkson squealed before slamming her hand down on her button and turning her red chair. 
The Voice Season 23 premieres March 6, 2023, with Clarkson returning as a Coach alongside Shelton — in his final season — and newcomers Niall Horan and Chance the Rapper.