NBC Insider Exclusive
Create a free profile to get unlimited access to exclusive show news, updates, and more!
Sign Up For Free to View
Alyssa Witrado Thanks 'Mama Gwen' During an Emotional Live Results Show
"Thank you for giving me this opportunity to feel like I can shine on stage," the 19-year-old said.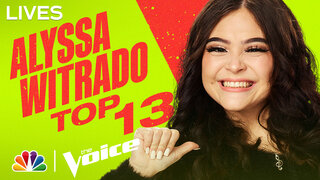 Though The Voice Coach Gwen Stefani was able to save Alyssa Witrado during last week's Top 16 Live Results show, this time, the 19-year-old's fate was in the hand of fans.
After taking on Selena's 1995 hit, "Dreaming Of You," Witrado found herself in the bottom four following the Overnight Vote. That meant that she—along with fellow Team Gwen member Kiqué and Team Camila's Devix and Eric Who—had to make one final effort to advance with a Last Chance performance.
The Fresno, California native chose to cover Billie Eilish's "Ocean Eyes." Following the song, Blake Shelton revealed that Host Carson Daly's 8-year-old daughter, London, told him Witrado was her favorite Contestant of the season. Stefani then called her rendition "beautiful."
"I love your voice so much, and I wish we had more time and I hope we do," Stefani said. "America, please vote Alyssa through so I can work with her."
Before the night's results were revealed, Witrado offered thanks to her Coach whom she affectionately calls "Mama Gwen." The two have had a particularly special bond after Witrado first auditioned with No Doubt's 1995 chart-topper "Don't Speak."
"Thank you for giving me this opportunity to feel like I can shine on stage and for bringing out something in me that I never knew that I had," she said through tears. "Thank you for making little me's dream come true. You are my dream come true."
Stefani responded, "In my life right now, when I reflect on everything and then I see a beautiful singer, a girl like you doing my song—even knowing my song—it was so incredible. And also just getting to see you blossom. You have so much talent, and I do believe in you outside of the show."
In the end, Kiqué moved on after earning the Instant Save. This meant Witrado, Who, and Devix were each eliminated from the competition.
"Beyond grateful and happy for this whole experience," Witrado wrote on her Instagram Stories. "So happy for my family on to Top 10. You guys are gonna kill it, and I can't wait to vote and watch. I love you all."
Watch The Voice on NBC Mondays and Tuesdays at 8/7c and next day on Peacock.