NBC Insider Exclusive
Create a free profile to get unlimited access to exclusive show news, updates, and more!
Sign Up For Free to View
Here's Who Was Saved on The Voice Season 22's Live Results Show
Did your favorite Contestant make it to the next round?
We've finally made it to one of the most thrilling parts of The Voice: Live Shows. But unfortunately, that also means we'll be saying goodbye to some Artists, as it's now up to fans to determine who remains in the competition and who's eliminated.
Each Tuesday at 8/7c (November 15, November 22, November 29, and December 6) the results of the Overnight Vote and Instant Save will be revealed until the series' two-part finale airing December 12 and 13. The first round of eliminations begin with the Top 16. Continue to read on, below, to see if your favorite singer will perform next week, and check back here every week for the latest elimination results.
Who was saved and eliminated from The Voice Top 10?
After a shocking bottom four reveal Omar Jose Cardona earned the Instant Save sending Justin Aaron, Parijita Bastola, and Kim Cruse home.
Justin Aaron
Parijita Bastola
Kim Cruse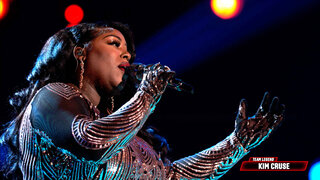 Who was saved and eliminated from The Voice Top 10?
Team Legend's Kim Cruse was kept in competition for another week through the fan Instant Save, sending Kiqué (Team Gwen) and Rowan Grace (Team Blake) home. Catch their last chance performances below.
Kique
Rowan Grace
Who was saved and eliminated from The Voice Season 22 Top 13?
After the Overnight Vote, Kiqué, Alyssa Witrado, Devix, and Eric Who each found themselves in the bottom. However fans voted for Kiqué to win the Instant Save which sent Witrado, Devix, and Who home.
Alyssa Witrado
Devix
Eric Who