NBC Insider Exclusive
Create a free profile to get unlimited access to exclusive show news, updates, and more!
Sign Up For Free to View
Why Did Blake Shelton Leave The Voice?
Season 23 was the cowboy's last on the show.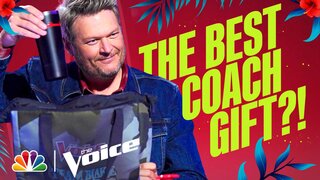 The self-proclaimed G.O.A.T. of The Voice has retired his red chair. Yes, that's right, Blake Shelton is exiting his Voice Coach duties after 23 years of service. 
Shelton has been a Coach on The Voice since the first season in 2011, when he was a part of the original cast with Adam Levine, Christina Aguilera, and CeeLo Green. He's offered his musical expertise on every episode since. The country star proudly holds the title of most-winningest Coach in the show's history with nine victories for #TeamBlake: Season 2 (Jermaine Paul), Season 3 (Cassadee Pope), Season 4 (Danielle Bradbery), Season 7 (Craig Wayne Boyd), Season 11 (Sundance Head), Season 13 (Chloe Kohanski), Season 18 (Todd Tilghman),  Season 20 (Cam Anthony), and Bryce Leatherwood (Season 22). 
But what's perhaps even more special? He met his wife, Gwen Stefani, while working on the show. They officially tied the knot in July 2021.
Why did Blake Shelton leaveThe Voice?
In short: Shelton wants to make more time for family — specifically in the stepdad role he has to Stefani's children. 
He told Access, "I think being a stepdad has changed my perspective in that I'm not the first person that I think about anymore. Even to the small little things when you go, 'I think I'll do this,' the very next thought is always,'Well, wait a minute. How's that going work?' Or, 'What will they think?' Or, 'How will that affect a schedule?'" 
"I think the only way for me to really do that right is to step away from being committed to something like The Voice that demands a lot of your time," he continued. "There's no way around it. If you're going to do it and do it right, you have to be 150 percent in. And I just feel like those days are behind me for now. I got a more important job." 
Gwen Stefani echoed a similar sentiment.  "I think that Blake–I don't know, I think he just wants more time, you know what I mean? I don't know that people realize, if he's doing two seasons a year, right? In between that, he's touring. So he actually has two teams at the same time at a certain point, so they overlap. So it's a lot of brain power, it's a lot of time away from the family, those kinds of things. I think he just got to a point where he just wants time in his ranch, like time to just do the other things that he loves to do," she told Extra in an interview. 
Stefani continued, "And I'm totally speaking for you, Blake, sorry! I'm married to you so I can say whatever I want! But it's just, I'm excited for him because, you know, we have lives outside of work, and it's a really good life, it's really fun, and we have so much fun! We have Oklahoma, which is something I never knew I needed and wanted, you know? We planted a garden, we do all kinds of fun stuff. So we're looking forward to doing some of that family stuff together. It's 'gonna be great."
When did Blake Shelton leave The Voice?
Shelton exited the show following Season 23.
How long has Blake Shelton been a Coach on The Voice? 
He was on the first panel of Coaches in 2011, when the show premiered, and he's been on ever since. That's 12 years of his life — a fact he highlighted in his departure announcement. 
"I've been wrestling with this for a while, and I've decided that it's time for me to step away from The Voice after Season 23," Shelton said in a statement. "This show has changed my life in every way for the better, and it will always feel like home to me. It's been a hell of a ride over these 12 years of chair turns, and I want to thank everyone at The Voice from NBC, every producer, the writers, musicians, crew and catering people; you are the best."
He continued, "It takes a lot of work, passion, and adult beverages (Ha!) to pull off a live show twice a week. I've made lifelong bonds with Carson and every single one my fellow Coaches over the years, including my wife Gwen Stefani! I have to give a huge shoutout to the singers–the 'Voices,' who come on this stage season after season and amaze us with their talent, and a special thanks to those who chose me to be their Coach. Lastly, it's about y'all, the fans, who watch and support these Artists, us Coaches, and everyone at The Voice who are chasing their dreams. It would not happen without you!"
Shelton used Season 23 as an opportunity to reflect on his Voice tenure. He was particularly emotional after hitting his last button for Grace West during the Blind Auditions. "I gotta tell you, I'm sitting here talking about Grace right now. My heart swells to think about my journey on this show, 23 seasons, and for the last Artist for me to hit this button for," he said at the time. "I didn't let it take over. I can't show any emotion, but I did get a little bit shook up."
"I don't normally get wrapped up in these moments, but when I hit my button for Grace, who ended up being the last person that I'll ever do that for, I was like, 'Oh!'" Shelton told Host Carson Daly during an episode of the show. "I felt myself, I was like, 'Oh my God, I can't believe I just said that.' I kind of got emotional, you know? And I knew coming into this I was trying to take all the moments in, and it's going by so fast. So when I said that out loud, it was, like, it became real."
In May, he shared a video from his last-ever rehearsal on the set of The Voice. The crew members in the room were all smiles and waves, their love for Shelton quite palpable. 
"Just wrapped up 23 seasons of filming rehearsals with all these dipsticks! What a ride @nbcthevoice #TeamBlake," he playfully captioned an Instagram Story.