NBC Insider Exclusive
Create a free profile to get unlimited access to exclusive show news, updates, and more!
Sign Up For Free to View
How Many Times Has Blake Shelton Won The Voice?
The whopping number explains why so many Artists want to be on Team Blake!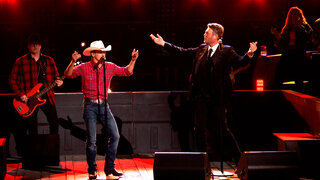 Blake Shelton has been a Coach on The Voice since Day 1, so it's no surprise he has managed to take home a record amount of wins. But exactly how many seasons has Team Blake come out on top? The  number is surely impressive.
How many times has Blake Shelton won The Voice?
Nine times!
Who are Team Blake's winners from The Voice?
Season 2 (Jermaine Paul)
Paul holds the proud title of being Shelton's very first Voice victory after charming the crowds with his silky vocals and powerhouse energy. After winning Season 2, Paul returned to New York to continue producing music, which he still does to this day. While Paul had the honor of recording with industry legends like Alicia Keys and Mary J. Blige, he also released two additional albums, For the Record: Volume 1 and Volume 2
Season 3 (Cassadee Pope)
The punk singer-turned country crooner was a fan favorite as soon as she earned a Four-Chair turn. After being signed with a Nashville-based record label, she has released three beloved albums, the most recent  being Thrive in 2021. Pope is kicking off the Thrive Tour in March 2023. 
Season 4 (Danielle Bradbery)
Ah, yes, Shelton's all-time favorite season of The Voice: Bradbery's Season 4 win. Shelton had a bunch of skin in the game when multiple members of Team Blake became finalists, but Bradbery was the Artist that seized the win, becoming the youngest Artist to do so at only 16! Since winning, Bradbery has toured with country legends like Brad Paisley, Hunter Hayes, Miranda Lambert, Kane Brown, and more. She's also released three studio albums, Danielle Bradbery, I Don't Believe We've Met, and 2022's In Between: The Collection. 
Season 7 (Craig Wayne Boyd)
After winning The Voice in 2014, Boyd hit the ground running with his solo career, releasing his first studio album under a record label in 2017. The Season 7 Voice winner recently released a new single called "One Line Away," a romantic track based on his relationship with his wife, and that isn't the last fans will hear from him. "I am diving head first into 2023," Boyd told People. "Ready to get on the road and play good ole country music for ya and bring y'all some fresh, new tunes to boot."
Season 11 (Sundance Head)
Season 11's Sundance Head was a delight to watch from beginning to end. Shelton was instantly charmed by the country-soul singer during his Blind Audition of Otis Redding's "I've Been Loving You Too Long." Sundance Head has been staying booked with live shows all around the country; they released a studio album, Stained Glass and Neon, in 2019.
Season 13 (Chloe Kohanski)
Kohanski may have stolen hearts with Coach Miley Cyrus at the start, but she was saved by Shelton, which proved to be the ticket to the crown in Season 13 of The Voice. Since winning The Voice in 2017, Kohanski adopted the stage name "chloe mk" and embraced an indie pop-rock sound that works perfectly with her pop beginnings. In 2019, she released her album Fantasy and followed that up with 2020's All the Same, All OK. 
Season 18 (Todd Tilghman)
Tilghman is a known family man, and after he won The Voice in Season 18, he returned home to his family of eight. Tilghman and his wife released the joint memoir Every Little Win: How Celebrating Small Victories Can Lead to Big Joy in 2021, which explores their family. His son, Eagon, also proved to have a competitive spirit when he became a Contestant on NBC's Making It.
Season 20 (Cam Anthony)
Anthony's Voice run was truly legendary, and his Blind Audition of Sam Smith's "Lay Me Down" is just a small reason why. Anthony was an instant fan favorite, with his soulful vocals bringing him all the way to the crown. Later, he returned to The Voice stage to perform in Season 21 and has kept busy by posting jaw-dropping covers on his YouTube channel. In 2022, Anthony released his debut single, "Keep It Between Us," and told Detroit News that he has an EP on the way.
Season 22 (Bryce Leatherwood)
Season 22's winner of The Voice, and the man responsible for giving Shelton his ninth win as a Coach, is Leatherwood. And while it hasn't been long since his victory, he's already becoming a fixture within the music scene. Leatherwood is currently touring and announced on Instagram that he is performing at Ole Red, Shelton's restaurant and bar, in Orlando on March 3rd. 
Shelton will have one more chance at a win next year, as he revealed Season 23 will be his last as a Coach. 
"I've been wrestling with this for a while, and I've decided that it's time for me to step away from The Voice after Season 23," Shelton said in a statement announcing the news "This show has changed my life in every way for the better, and it will always feel like home to me. It's been a hell of a ride over these 12 years of chair turns, and I want to thank everyone at The Voice from NBC, every producer, the writers, musicians, crew and catering people; you are the best."
So, will Blake Shelton manage to get 10 total wins under his name? To find out, watch The Voice Season 23 when it airs in March 2023. Until then, catch up on the show on Peacock and NBC.