NBC Insider Exclusive
Create a free profile to get unlimited access to exclusive show news, updates, and more!
Sign Up For Free to View
How Gwen Stefani Says She's Changed Since Moving to Oklahoma With Blake Shelton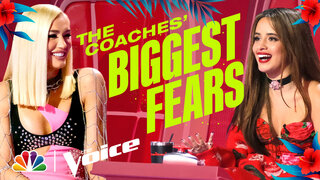 Competing on The Voice can be a thrilling experience, and while the Coaches may have already conquered the music industry, everyone has something that scares them when things go bump in the night. In honor of the spooky season, Season 22 Coaches Blake Shelton, John Legend, Gwen Stefani, and Camila Cabello are chatting about some of their biggest fears. Watch in the video, above. 
Camila Cabello: Gore
"I don't really like anything gory," Cabello admits. "If I'm trick-or-treating, which yes, I still do, I don't like seeing anything bloody. Any kind of weird, disturbing clown masks. I don't want to see anything actually scary. Just like, '80s costumes and maybe some witch costumes. But that's it." 
John Legend: Rodents
"My biggest fear? I'm afraid of rats and mice," Legend reveals. "They really freak me out. Not into them at all. They creep me out. If I see them, I have bad dreams about them. Ah! I hate them." 
Blake Shelton: Large bodies of water
"One thing that scares me is deep, clear water," Shelton explains. "Like, water that's so deep and clear that when you look down, it just turns into darkness. That scares me because there's stuff down there."
Gwen Stefani: Liars
Stefani admits that married life in Oklahoma has shifted her perspective on fear, but her biggest scare is one that everyone might echo. "I've changed since I've been in Oklahoma. I'm not as scared of things anymore," she says. "One thing that scares me is liars!" 
Watch The Voice on NBC Mondays and Tuesdays at 8/7c and the next day on Peacock.