NBC Insider Exclusive
Create a free profile to get unlimited access to exclusive show news, updates, and more!
Sign Up For Free to View
Why Blake Shelton Hit His Voice Button For the Last Time For Grace West
Will West bring Shelton a victory for his last season in the red chair? Find out by watching The Voice on NBC.
The Voice Season 23's last night of Blind Auditions was particularly emotional for Blake Shelton. Because it's his final season in the red chair, that means the time came when he pushed his button for the last time ever. 
The Artist who received that honor was Grace West, who auditioned with "Maybe It Was Memphis" by Pam Tillis. "Your voice is impeccable," Niall Horan told West after her Blind Audition. (He also turned for her.) "I've got nothing like you on my team. Obviously, I'm up against this [Shelton], and he is a country superstar, and that's probably where you're leaning. But I was brought up on traditional Irish music, which obviously led me to country music. And that's the kind of lane that I've fallen into."
This was a great argument, but Horan quickly realized Shelton had a major bargaining chip: Team Blake only needed one more Artist.
"I have one spot left on my team," Shelton told West. "I would be honored if you would join the last Team Blake as the last person that I will ever hit this freakin' worn-out button for."
Even Shelton's longtime red chair rival Kelly Clarkson had to admit Shelton's point. 
"I 100% believe in you. I cannot wait to see what you do on the show, and I can't even believe I'm doing this, but it's his last season," Clarkson said hesitantly, before adding, "I will say, Blake is a great Coach for you, in this sense. I love Niall-"
"No, you don't!" Horan humorously snapped.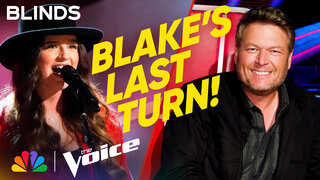 Clarkson continued, "Niall has been killing it, and he is a singer-songwriter, and everything he said does ring true. But I've also known Blake for years, and he's the guy that really does help Artists out."
"I love Kelly Clarkson!" Shelton said, smiling ear to ear at the rare sentiment. "I love Kelly Clarkson!"
"This is my gift to Blake Shelton," Clarkson quipped.
"That is one hell of a gift you've given him," Horan said, defeated.
Ultimately, this won West over, and she became the last member of Team Blake. 
"The thing I love about Grace's voice is that there's no mistaking she's country. She's a perfect female country singer," Shelton said. "I gotta tell you, I'm sitting here talking about Grace right now. My heart swells to think about my journey on this show, 23 seasons, and for the last Artist for me to hit this button for. I didn't let it take over. I can't show any emotion, but I did get a little bit shook up."
Watch Shelton's emotional final season of The Voice on NBC Mondays at 8/7c, Tuesdays at 9/8c, and the next day on Peacock.