NBC Insider Exclusive
Create a free profile to get unlimited access to exclusive show news, updates, and more!
Sign Up For Free to View
Kelly Clarkson Had an Emotional Reaction to Blake Announcing His Last Voice Season
These two love each other—deep, deep down!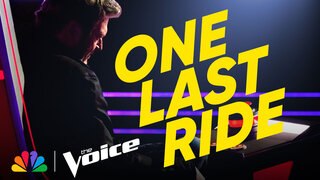 Season 23 of The Voice is quickly approaching. And because it's Blake Shelton's last ever in a red chair, his fellow Coaches Kelly Clarkson, Niall Horan, and Chance the Rapper are preparing for one of the most nail-biting competitions yet  In a new promo for Season 23, the Voice Coaches are revealing how they feel about sitting alongside Shelton for the OG's curtain call. 
"I've been thinking about this day for several years now," Shelton muses in the exciting promo. "Just wondering when it would happen, but here I am. It's my first day of my last season of The Voice. I'm having a damn good day. You know, I was nervous I was going to be sad, but I'm not. I'm just having a blast!" 
Season 23 is bound to be full of shenanigans, especially between Shelton and his longtime rival, Clarkson. "I had a little bit of a hint that it might be Blake's last season, and I was like, 'No way, I have to be there!'" Clarkson reveals. "This will be 23 seasons now. That's a lot of seasons, but he's so great at it, and don't tell him this, but he is kind of the king of The Voice."
In the promo, Clarkson runs over to Shelton's chair to whack him with a necktie. Did Shelton steal a potential Team Kelly member? We will have to wait and see, but Clarkson isn't taking it easy on Shelton for his final season. "So it's like, I had to come back and be here for that," Clarkson says, before reminding fans: "But the queen is back as well!"
As for newbie Coach Horan, he and Shelton seem thick as thieves throughout the sneak peek of Blind Auditions. "I can see exactly why the people of America have fallen in love with this man," Horan explains. 
As for fellow newbie Coach Chance the Rapper, he's focused on claiming the Season 23 crown, even if it means stealing the glory from Shelton. "It's so cool to be working with Blake on this season. He's kind of built this thing here and stayed with it for the whole ride, 12 years," he says. 
But make no mistake: Chance has his priorities straight. "I just want to beat Blake. He has such tenure here, and I think, like, the best way for people to leave a job is to lose on their way out," Chance teases. "So it would be awesome to take any country Artist from Blake."
Which Season 23 Coach will claim the crown and glory of winning Shelton's final season (if any)?
Find out by watching The Voice when it premieres Monday, March 6 at 8/7c on NBC and the next day on Peacock.