NBC Insider Exclusive
Create a free profile to get unlimited access to exclusive show news, updates, and more!
Sign Up For Free to View
Your 1st Look at The Voice Season 23 Includes Coach Battles—And Blake's Middle Finger
Watch Season 23 of The Voice when it premieres Monday, March 6th on NBC.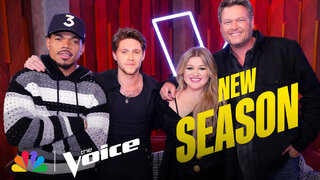 Season 23 of The Voice is on its way, and Coaches Blake Shelton, Kelly Clarkson, Niall Horan, and Chance the Rapper are already up to no good in the first look at what's to come.
The stakes are high, the Artists are great, and each of the competitive Coaches wants to seize the crown. Watch the hilarious promo, above. 
"This is my last season on The Voice," Horan teases while impersonating Shelton with a country twang. "And I would be honored if you were to be on the last-ever Team Blake."
The impression had Clarkson in tears from laughing so much, which seems to be just a taste of the shenanigans to come in Season 23. 
"What is the strategy for beating Blake?" Chance asks Clarkson.
"Always say, 'Oh, he's got all the country people. You're not gonna stick out on that team, you wanna stand out on mine,'" she replies. 
In a sneak peek of the Blind Auditions, Chance does just that while chatting with one of the upcoming Artists. Shelton sits back in amazement as Chance explains that it would be "really cool" to steal a country Artist from The Voice's reigning country king.
"That is, like, the opposite of cool," Shelton says. 
"What's your plan?" Shelton asks newbie Horan. "How you gonna beat Kelly? It's not easy."
"It's not easy," Horan agrees. "She has got strong pitches." The two Coaches then reflect on how Clarkson has a habit of trying to yank country Artists from Shelton. 
"Every time you turn, I'm going with you," Horan jokes to Shelton. 
"Yay," Shelton deadpans. 
While selecting Artists, though, it seems Shelton is happy to lend a hand to Horan as long as Clarkson doesn't take home the crown. Strategy, maybe? But Clarkson is quick to call out her longtime rival.
"Are you giving him help?" Clarkson yells. "What are you doing?"
"I'm giving him my phone number," Shelton explains. "We've known each other for two days, and I have to give him my number."
"You are not, you are giving him help!" Clarkson says. Nothing gets past Clarkson!
"What are you looking for in a team?" Clarkson asks Chance.
"I'm looking for individuality," Chance reveals. "I'm looking for style that the audience hasn't seen before."
"I'm looking for something that makes the ears perk a little bit," Horan explains.
The promo then shows Horan pulling out all the tricks to get a mystery Artist on his team. "I know for a fact that I've got the fanbase that would absolutely love you," Horan tells her. "Please come over to Team Niall." The Season 23 Coach bats his eyelashes and throws her his best pout.
"It's hard to resist a little bit," she tells him. Did she end up choosing his team? Only time will tell!
Also: Time will tell why Blake Shelton flips someone the bird at the end of the promo! Mystery, mystery! 
Watch all this go down whenThe Voice Season 23 premieres on NBC Monday, March 6 at 8/7c and the next day on Peacock.