NBC Insider Exclusive
Create a free profile to get unlimited access to exclusive show news, updates, and more!
Sign Up For Free to View
Definitive Proof That The Voice Coaches All Love Blake Shelton
You can't deny that he helps make winners! Watch Shelton on The Voice on NBC and Peacock.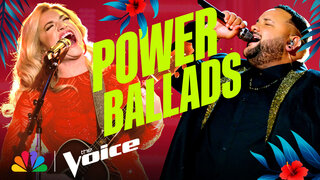 Blake Shelton is the original The Voice legend. During his 12-year run on the show, he won a whopping nine times. And given his expert, hands-on coaching style, it's not hard to understand why he's been so successful.
Unsurprisingly, his fellow Coaches agree. Read all about what other The Voice Coaches have to say about the lovable Blake Shelton, below: 
Kelly Clarkson
In a 2018 promo for The Voice Season 15, Kelly Clarkson shared what she admires the most about Shelton. 
"My favorite thing about him is what attracted me to the show in the beginning. He really wants to push for his Artists. He really wants them to have a career afterwards. I love that," she said of his dedicated approach. 
There's no doubt that Clarkson saw Shelton as fierce competition on The Voice during Season 23, which was his last as a Coach. 
"Will I go any easier on Blake knowing it's his last season? Do you know me at all? No!" she said in an interview with NBC Insider. "Do I hope secretly that he wins his last season? Maybe. But am I going to let him have it? No! I'm going to work for my Artists, and I hope they win!"
Gwen Stefani
Shelton's wife, Gwen Stefani, also had some fond words to share regarding how her husband managed to achieve so many victories. 
"I know Blake so well," she said during a Season 22 promo. "And what he does for some of the Contestants in the past 22 seasons, he really does help people. This is the real deal, this guy."
Niall Horan 
Niall Horan, who started as a Coach during Season 23 and is returning for Season 24, developed kind of a father-son relationship with Shelton  during their season together. 
"Blake? He's a beauty. I can see exactly why the people of America have fallen in love with this man," Horan said while filming the Blind Auditions "He's like a new dad to me." 
After the season ended, he talked about how much working with Shelton meant to him. 
"I'm glad that I was here for his last night," Horan said in an interview with NBC Insider. "As I've said in previous interviews, when I think of The Voice, I think Blake." 
Chance the Rapper 
Chance the Rapper, who also joined The Voice as a Coach during Season 23, said it was Shelton who helped him make the most of the Season. 
"Whenever you come in on a show, where you're on camera, and it's reality TV, or even like acting stuff, I think there's a little bit of time that it takes to get comfortable," he said in an interview with NBC Insider. "He really helped me accelerate that by just being goofy all the time." 
"It breaks the ice, you know what I mean?" he added. "And it made me understand that this space, specifically this show, is really just about loving music and having fun." 
Camila Cabello
Blake Shelton and Camila Cabello were known to have a playful rivalry during Season 22 of The Voice with their teasing and banter; however, it was clear that they truly adored each other deep down.
"Blake makes it really, really fun," Cabello said of their dynamic on the show. "He actually makes me almost cry with laughter... He is so funny; he's one of the funniest people I've met." 
John Legend
John Legend spoke to Entertainment Tonight about his feelings on Shelton's departure from The Voice. 
"He's been the heart and soul and anchor of the show for a long time, and he's a friend of mine, and I really enjoy working with him," the "All of Me" singer said. 
Blake Shelton on his exit
Shelton announced that Season 23 of The Voice will be his last in October of 2022. "I've been wrestling with this for a while, and I've decided that it's time for me to step away from The Voice after Season 23," he said in a statement. "This show has changed my life in every way for the better, and it will always feel like home to me. It's been a hell of a ride over these 12 years of chair turns, and I want to thank everyone at The Voice from NBC, every producer, the writers, musicians, crew and catering people; you are the best."
He continued, "It takes a lot of work, passion, and adult beverages (Ha!) to pull off a live show twice a week. I've made lifelong bonds with Carson and every single one my fellow Coaches over the years, including my wife Gwen Stefani! I have to give a huge shoutout to the singers — the 'Voices,' who come on this stage season after season and amaze us with their talent, and a special thanks to those who chose me to be their Coach. Lastly, it's about y'all, the fans, who watch and support these Artists, us Coaches, and everyone at The Voice who are chasing their dreams. It would not happen without you!"
This story was originally published on February 16, 2023. It was updated June 14, 2023.