NBC Insider Exclusive
Create a free profile to get unlimited access to exclusive show news, updates, and more!
Sign Up For Free to View
An Official Recap of Team Chance on The Voice 2023
Chance the Rapper is a first-time Coach for Season 23, but he's proving to be serious competition. 
Chance the Rapper is one of The Voice Season 23's first-time Coaches — along with Niall Horan — and he's already proving to be quite skilled in the red chair. 
"I wanted to be a Coach on The Voice because I like giving platforms to young Artists — especially people who are already seasoned in their trade and know what they're doing but just need the right spotlight. I wanted to be a part of the process," he told NBC Insider. 
That process, though, includes competition from his fellow Coaches. The biggest threat in Chance's eyes is Kelly Clarkson. "I think my biggest competition amongst the Coaches is probably Kelly, 'cause she's a seasoned vet, she's won a bunch of times, and people just gravitative towards her 'cause they know she's been in a competition. She's mega famous," he said.
The rivalries will certainly heat up during the Battles, Knockouts, and Playoffs, where the teams will shift with Saves and Steals. "I think I'm most excited to see the Battle Rounds just to see my team battle it out for a spot, duet a song they may be unfamiliar with, and turn it into their own," Chance said. "That's, like, what this whole show is about: showing what your vocal feels like on these big, famous records. That's gonna make for good TV, for sure."
Be sure to check back here for all the updates on Team Chance, including shifts in his lineup. We'll be recapping it all! 
Team Chance after Live Shows results 
Sorelle was voted to advance to the finale, airing May 22 and 23rd. Gina Miles from Team Niall won the competition. 
Team Chance after Playoff results
In the Playoffs, Coaches must narrow their teams down from five to two. Those two Artists will compete in the Live Shows. 
After the Playoffs, Chance selected Sorelle and Ray Uriel to move forward in the competition. Kala Banham, Jamar Langley, and Manasseh Samone were sent home. 
Team Chance after Knockout results
Ray Uriel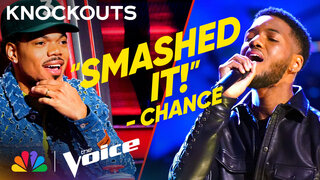 Knocked Out: NariYella
Song: "Lately" by Stevie Wonders
"It's the Knockout Round for a reason, as people give a 'knockout' performance in that moment, and Ray really did that," Chance the Rapper said. "He really showed us his ability to kinda shape shift and take on different songs."
He continued, "He really pays attention to lyrics. [He] brings songs to life through understanding the experience, and I hope he shows off his intentionality and control."
Kala Banham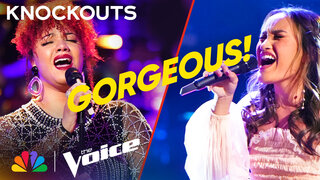 Knocked Out By: Cait Martin on Team Kelly
Song: "Iris" by Goo Goo Dolls
When Banham was Knocked Out of Team Kelly, both Shelton and Chance attempted to Steal her. In the end, Chance won out. "You remember when Blake turned around for you in the Blinds?" he asked.
"No, I don't remember that," Banham replied. 
"Oh you don't? 'Cause it didn't happen. It didn't happen. I did turn around for you in the Blinds and I tried to steal you at the Battles, so I was playing the long game," he said. "We could win together. Or you could go with Blake." 
The rapper later added, "I've been working that angle for a while. She adds a different, smoother take to my team. A lot of control, but a softer tone and now she's down with the winning team." 
Jamar Langley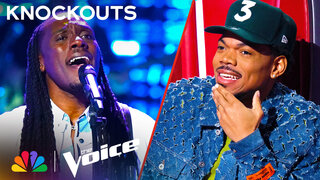 Knocked Out: Magnus
Song: "Cruisin'" by Smokey Robinson
 "You can sing some baby-makin' music, man," Kelly Clarkson told Langley. "I love you playing the guitar. I know it's called The Voice, but it actually enhances your vocal ability."
Sorelle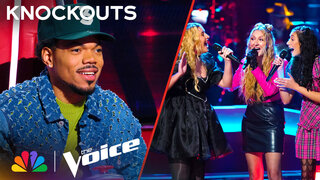 Knocked Out: Tiana Goss
Song: "Blame It On the Boogie" by The Jacksons
"The girls got up on stage and were cute as a button," Mega Mentor Reba McEntire said after the rehearsal. "They did the little dance routines and taking turns singing, and that three-part harmony which I absolutely loved. I just fell in love with them."
Manasseh Samone, Playoff Passed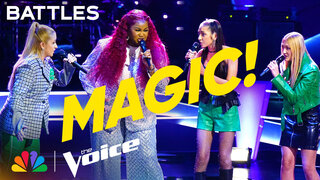 Song: "Someone Like You" by Adele
"Manasseh, her journey is crazy, I think she was meant to be here at this time and now Manasseh has my one and only Playoff Pass," Chance said of his decision. "She's heads and tails above the competition in my eyes. She has the strongest voice, she has the experience of being on this stage before and I think Manasseh totally deserved to skip the next round."
Watch The Voice on NBC Mondays at 8/7c and next day on Peacock.