NBC Insider Exclusive
Create a free profile to get unlimited access to exclusive show news, updates, and more!
Sign Up For Free to View
How Sorelle Delivered That 'Impossibly Perfect' Knockout Performance on The Voice
"Sorelle, it's the shock factor every time," The Voice Coach Niall Horan said, praising the group's performance that kept them alive after the Knockouts, while Blake Shelton said they sounded "autotuned."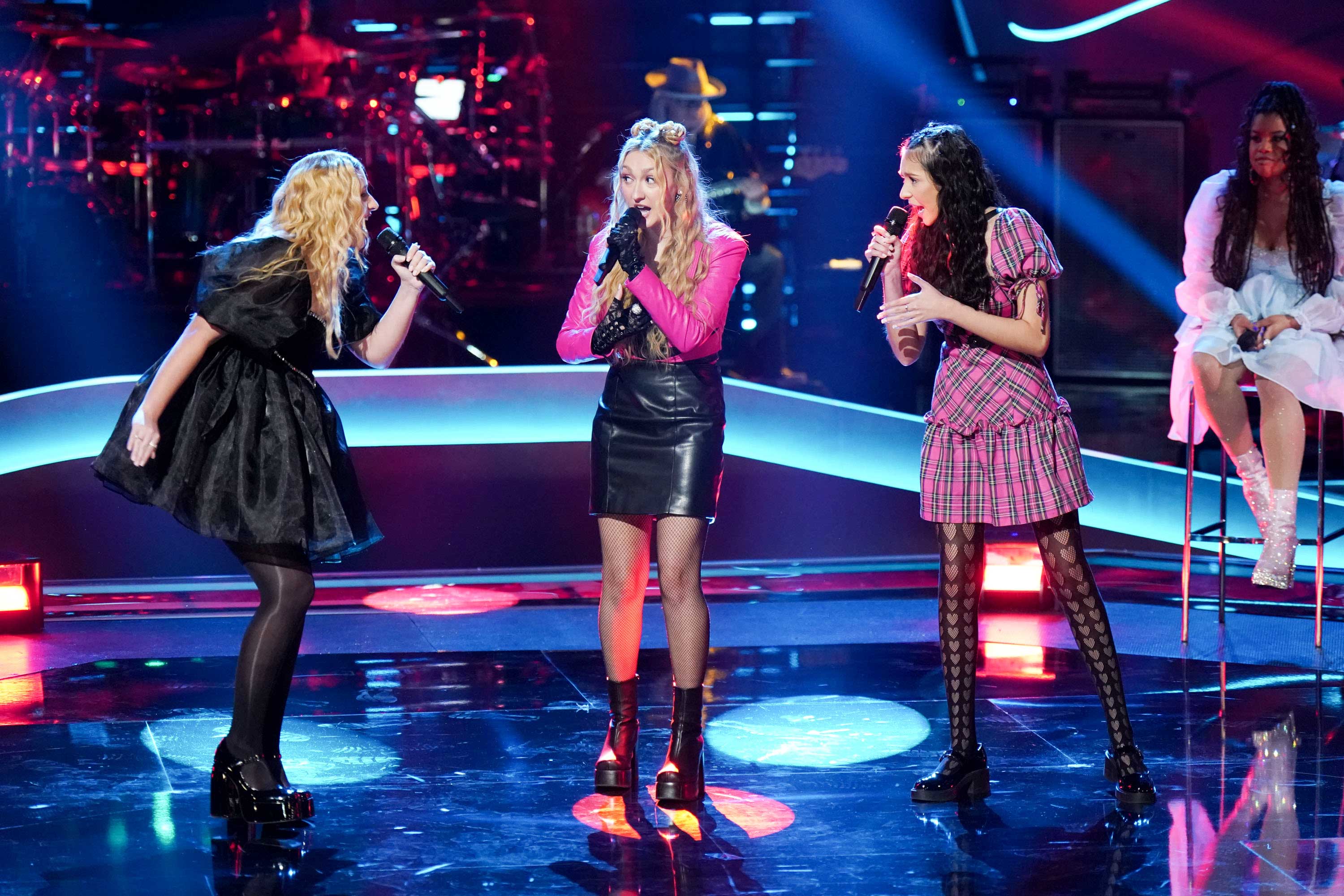 Every time Sorelle gets on stage on The Voice, it's a smash, according to Coach Chance The Rapper, and the sisters from Ohio hit it out of the park again during their Knockout Rounds performance.
Sorelle was up against Tiana Goss, a 29-year-old from Los Angeles, who was on Team Chance after being stolen from Team Niall during the Battle Rounds. After going big with "Girls Just Want To Have Fun" during the Battles, Goss told Chance she wanted to "strip it down and do something a little slower" and chose to perform "God Is A Woman" by Ariana Grande.
"I kinda changed the arrangement to make it a little more acoustic — slow it down just a little bit," Goss said. "'God Is A Woman' — that statement is so powerful to me. I grew up in a house with a single mom and she did it all on her own. I look up to her so much, so it's a very personal choice."
During rehearsals, Chance praised her technical performance.
"She has a very distinct vocal in that it's got an angelic sense to it," Chance said. "On a technical level, her talent is undeniable."
Sorelle decided to sing "Blame It On The Boogie" by another sibling group, The Jacksons, calling it one of their favorite songs growing up. Mega Mentor Reba McEntire said the sister group gave her nostalgia.
"I'm also part of a singing group. My older brother, my little sister and I, we were the Singing McEntires," she told Sorelle.
Sorelle told McEntire and Chance The Rapper they decided on their name because "sorelle" is "sisters" in Italian.
"We really love upbeat, high energy, catchy choruses," the sisters said. "We really want to show the Coaches we have the ability to fill up arenas."
Sorelle said they chose the song because growing up they had a karaoke machine, and "Blame It On The Boogie" was one of their go-tos.
RELATED: Who Are Blake Shelton's Most Frequent Songwriting Partners?
"The girls got up on stage and were cute as a button," McEntire said after the rehearsal. "They did the little dance routines and taking turns singing, and that three-part harmony which I absolutely loved. I just fell in love with them."
The Voice coaches also fell more in love with Sorelle during the Knockout Rounds.
"This is tough because Tiana, you're great, and you sounded great today, and that's rare for someone to always be that consistent, be as great as you are," Coach Blake Shelton said. "It's just not as rare as Sorelle. They sound literally like they've been autotuned as we're singing live. It's like almost impossible to sound that perfect."
Both Coaches Kelly Clarkson and Niall Horan praised Tiana Goss's "tender," "pure," and "sweet" voice during the Knockout performance, but it wasn't enough. Chance The Rapper picked Sorelle to win the Knockout Round, sending them to the Playoff Round.
"Sorelle completely blew me away," Chance said. "They have beautiful blends, and have a stage presence that sucks the audience in every time they get up there."
Horan, who originally picked Goss for his team, said he was sad to see her go.
"I just think she came up against the beast that is Sorelle today," Horan said. "They're unlike anything we have in the competition, and Chance has got Sorelle in his back pocket, and that could be dangerous."
Watch new episodes of The Voice Mondays at 8/7c and the next day on Peacock.