NBC Insider Exclusive
Create a free profile to get unlimited access to exclusive show news, updates, and more!
Sign Up For Free to View
An Official Recap of Team Niall on The Voice 2023
He may be Blake Shelton's mini-me, but does he have the cowboy's same knack for winning?
Niall Horan may be new to The Voice Coaches panel, but he's certainly making a splash — specifically when it comes to his bond with veteran Blake Shelton. It's clear these two have a father-son dynamic —you could even call Horan Shelton's mini-me! 
"Me and the cowboy became good friends very quick. We realized we're very similar people. For the good and the bad. He's so funny — from the minute we met him," Horan told NBC's Mark Barger.
But don't let their chummy relationship fool you. Horan intends to win this season — and he's already pulled out some stunts that show everyone he's a threat. Including Shelton.
"We were all privately given one little stunt that we could use in the Blind Auditions. And my one was that I was able to, once they'd all done their pitches, I was able to have some alone time with the Contestant. And I was able to hit the button on everyone's chair, and they would spin back around. And I was able to just have my alone time. And yeah, it was a lot of fun," Horan said. "None of them expected it, and it had never been seen on the show before. Even Blake was like, 'How did you manage to do that' He was jealous. But yeah, it was a lot of fun. That was a great moment."
Horan is secure in his team, too. "I'm pretty confident [that] I've got the Season 23 winner on my team. The longer [the] competition goes on, the more I realize that I may have a chance of at least having someone in the Final. At least we'll be making it to the Finale," Horan said  "And yeah, I do think I've got the winner. It's down to you, America, but vote for me." 
But will they? Horan has to get through the Battles, Knockouts, and Playoffs before any voting happens —which means his team will change. We'll be recapping all those changes, below. Be sure to check back for updates. 
Team Niall after Live Shows results 
Gina Miles was voted to advance to the finale, airing May 22 and 23rd. She ultimately won the competition. 
Team Niall after Playoff results
In the Playoffs, Coaches must narrow their teams down from five to two. Those two Artists will compete in the Live Shows. 
After the Playoffs, Horan selected Ryley Tate Wilson and Gina Miles to move forward in the competition. Michael B., Ross Clayton, and Tasha Jessen were sent home. 
Team Niall after Knockout results
Gina Miles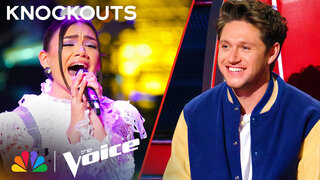 Knocked Out: Kate Cosentino
Song: "Somebody That I Used to Know" by Gotye
"Kate and Gina are so good," Horan said. "Gina is just so consistent. The Playoffs are Gina's chance to step forward and trust in her ability. She's an unbelievable talent."
Tasha Jessen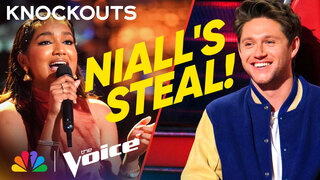 Knocked Out By: NOIVAS
Song: "Take Me to Church" by Hozier
Thinking back to turning for her during Blind Auditions, but being foiled by Team Blake, Horan was grateful to finally be able to steal Jessen in Knockouts. "I was looking for a big female voice, and I got one," he said.
Michael B.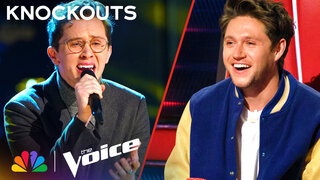 Knocked Out: EJ Michaels
Song: "When You're Gone" by Shawn Mendes
"I guess I just have to go with what I see in the future and in my gut for the coming rounds and the bullet-proofness of it," Horan said. "The winner of this Knockout is Michael." 
Ross Clayton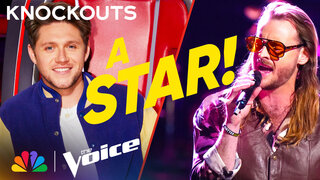 Knocked Out: Jerome Godwin III
Song: "Dirty Work" by Steely Dan
"Unbelievable. You got a four chair turn in the Blind Audition for a reason," Horan said. "Obviously, you just have that tone that cuts through like, as Blake said, we're in the middle of a gig. I know for a fact that there's more in your back pocket."
Ryley Tate Wilson, Playoff Passed
Song: "Heartbreak Anniversary" by Giveon
"Ryley, you do have this kind of raspy but beautiful, airy falsetto that is like insane," said Clarkson. "And you're 15, what? You can't even drive a car!"
Watch The Voice on NBC Mondays at 8/7c and next day on Peacock.