NBC Insider Exclusive
Create a free profile to get unlimited access to exclusive show news, updates, and more!
Sign Up For Free to View
Niall Horan Dressed Up as Blake Shelton, and They Literally Looked Like Father and Son
Blake Shelton and Niall Horan haven't been shy about the father-and-son-type bond they feel for one another, but Horan took it to another level Tuesday with a matching outfit.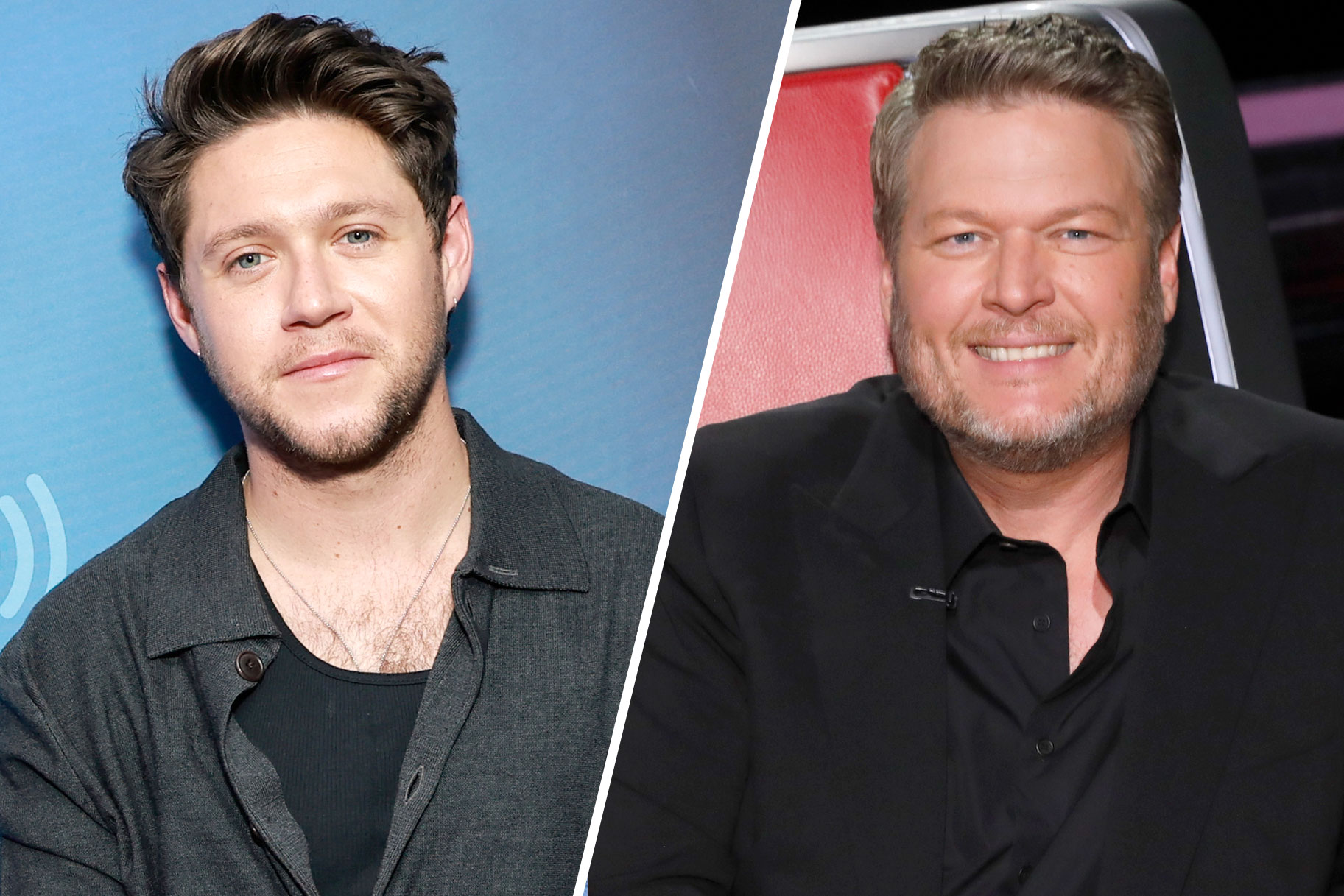 It may be Blake Shelton's last season on The Voice — but his doppelganger is already poised to stand in his place.
Coach Niall Horan hilariously dressed up as Shelton, wearing the country legend's actual clothes on The Voice for the final night of the Blind Auditions. And let's just say there was an uncanny resemblance.
"I wanted to do something very special for Blake's final blind auditions," Horan said. "So I went into his closet and stole everything he owns. He has no idea what's about to happen."
Horan then emerged from backstage wearing Shelton's jeans, a gray button-down shirt, and a black jacket.
The getup earned a standing ovation from fellow Coach Kelly Clarkson, who was the first to see him walk into the studio before Horan caught Shelton's attention.
"I like it," Shelton laughed, before getting up to stand next to his pseudo-son.
"Looking good, son, looking good," Shelton joked. "That's my boy right there."
RELATED: Why Niall Horan Called Ryley Tate Wilson's Audition the 'Best One' the Coaches Have Seen
Throughout Season 23, Shelton and Horan have poked fun at the tight bond the veteran Coach and the newbie share, often referring to themselves as father and son.
"I knew he was meant to be my son when he laughed at all my jokes @NiallOfficial .. #TeamBlake #TheVoice," Shelton recently wrote on Twitter alongside a photo of the pair sitting side by side in their Coaches' chairs.
Horan took it to the next level Tuesday as he broke out his best Shelton impression while singing the lyrics to Shelton's 2019 hit "God's Country."
"Wow," Coach Chance the Rapper remarked.
"That was really good," Clarkson agreed.
Horan then delivered a heart-felt message to Shelton, who plans to step down as a Coach on The Voice at the end of the season.
"I've been so proud to be your son," Horan said. "There's no one better to dress like than my dad."
"Are those my actual jeans?" Shelton responded.
"Yeah, I think so," Horan said as he tugged up the jeans to keep them from falling off. "I think they are."
The look-a-likes sat side-by-side as country singer/songwriter Grace West took the stage to sing "Maybe it was Memphis."
The 19-year-old's audition impressed both Coaches. They faced off in their matching outfits for West, who now lives in Nashville, as Shelton tried to fill his last-ever spot on Team Blake.
While Horan gave it his best shot, he wasn't able to overcome the emotional pull that Shelton brought with his pitch.
"I moved to Nashville when I was 17 so I relate to that so much," Shelton said of West's background. "I mean, you have this thing that I don't really feel like any of the artists your age really have any more. I actually hear Pam Tillis in your voice. I have one spot left on my team. I would be honored if you would join the last Team Blake as the last person that I will ever hit this freaking, worn-out button for."
Even Clarkson put her usual playful ribbing with Shelton aside to endorse the country legend.
"I can't even believe I'm doing this, but it's his last season and I will say Blake is a great coach for you in this sense. I love Niall and I'm going to be honest with you, Niall has been killing it and he is a singer/songwriter and everything he said does ring true, but I also have known Blake for years and he's the guy that really does help artists out," she said, later adding that her endorsement was her "gift" to Shelton.
It didn't take long for West to agree to join Team Blake, becoming the final Artist to ever be recruited onto Team Blake.
"The thing I love about Grace's voice is there's no mistaking she's country. She's a perfect female country singer," Shelton said. "I gotta tell you, I'm sitting here talking about Grace right now and my heart swells up to think about my journey on this show: 23 seasons and for the last Artist for me to hit this button for — I didn't let it take over, I can't show any emotion, but I did get a little bit shook up."
Watch The Voice on NBC Mondays at 8/7c and Tuesdays at 9/8c and next day on Peacock.