NBC Insider Exclusive
Create a free profile to get unlimited access to exclusive show news, updates, and more!
Sign Up For Free to View
A Complete History of The Voice Coach Blake Shelton's Mullet(s)
Blake Shelton used to rock the only hairstyle with its own iconic catch phrase: Business in the front, party in the back.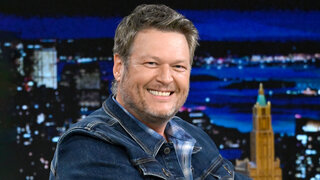 The Voice coach Blake Shelton (and those who love him) frequently makes reference to the iconic mullet he rocked in his early career before opting for a shorter 'do. 
It's so iconic that he even brought the mullet back for the music video to his most recent single, "No Body." In an Instagram announcement shortly before its release, he wrote, "Had to bring back the mullet just for y'all..."
He told Entertainment Tonight about the decision to rehash his be-mulletted days in the video, which also featured several other mullets and early '90s callbacks, from the fashions to line dancing to the video wipes.
"The thing about this song, once we cut it and were listening to it back, is like, 'Man, I don't know if we meant to do this but it kind of sounds like '90s country music to me,"Shelton told the show. "I thought, 'Man, I'll just go back to the old Blake, put my hat back on and put a mullet wig on and make a video."
Shelton, after all, arrived in Nashville in 1994 at the tender age of 17 with the iconic 'do—which, according to the Oxford English Dictionary, is the same year the Beastie Boys actually coined the term "mullet" to describe the then-ubiquitous hairstyle in their song "Mullethead."
Though the hairstyle now called a mullet can be traced back to Homer's Iliad, it first re-appeared in the 20th century atop the head of David Bowie's "Ziggy Stardust" in the '70s, sparking an interest in the style which, in its original iteration, was strictly for men. Its length (the "party in the back") was meant to thumb a nose at the idea conventional, short-haired masculinity, while the short part (the "business in the front") was meant to still signal the wearer's manliness.
The style, which was then often referred to as "hockey hair" or a "Kentucky waterfall" became ubiquitous in the '80s, seen atop the heads of on-screen heartthrobs like Mel Gibson, Patrick Swayze, George Clooney, and Keifer Sutherland, non-hockey sports stars like baseball player Mike Piazza and basketball player Kurt Rambis, and what seemed like every county music star at the time.
Its apex (or nadir, depending on your point of view) probably came when Billy Ray Cyrus crossed over from the country to the pop charts in 1992 with his song "Achy Breaky Heart," accompanied by his long, flowing mullet that cascaded down to his shoulder blades—two years before Blake Shelton arrived in Nashville. (Shelton told PEOPLE in 2017 that Cyrus had been his hero.)
Iconic though his hairstyle became, Cyrus' ubiquitousness in the wake of ABH's success also marked the beginning of the downfall of the mullet as a go-to men's hairstyle: Within two years, the Beastie Boys were mocking those who wore it in "Mullethead."
"You're coming off like you're van Damme/ You've got Kenny G in your Trans Am," they rapped. "You've got names like Billy Ray/ Now you sing 'Hip Hop Hooray.'"
Within a couple of years, the mullet trend was dead—but it continued to live on and in Shelton's head, despite the apparent advice from his label. 
"I wouldn't give it up because people were asking me to cut my hair," Shelton told ET in 2022. "And because they were asking me, and the record label was pressuring me, there was no way in hell I was gonna cut it—just out of spite."
And though TODAY reporter Samantha Kubota confirmed in 2017 that Shelton rocked a mullet at least as far back as middle school, here is a look at his adult-era mullet stylings.
Blake Shelton mullet pics
Blake Shelton's Mullet in 2001
Shelton's eponymous first album was released in July 2001, following the successful release of his single, "Austin," that April. Though he said refused to cut off his luxurious mullet-curls at the time, if you didn't already know party in the back under his hat was belied by the business cut up front, you would've have learned it from pictures at the time.
"It's hot, it just sticks to my neck," he said of the mullet in 2022's ET interview. "It drives me nuts. I instantly remembered [while wearing the wig] how much my hair got on my nerves back in the day."
But a television segment that aired on NBC Oklahoma affiliate KFOR in 2001—before his album dropped—suggests that Shelton might not actually have been that stubborn about keeping it all business in the front.
Blake Shelton's Mullet in 2002
After great reviews for his inaugural album and another one in the works, Shelton was all smiles, sideburns, and slightly less differentiated curls on the red carpet in 2022. But he was still slamming that hat on the front part of his hair, no matter how stubborn he now claims he was being about cutting it.
Blake Shelton's Mullet in 2003
Shelton's sophomore album, The Dreamer, came out in 2003 and features a dreamy photo of the then-27 year-old rocking what looks like long curls, though history has it that he kept the mullet until cutting his hair short-ish in 2006. 
Blake Shelton's Mullet in 2004
Shelton released Blake Shelton's Barn & Grill in 2004, as well as a couple inches of long hair he'd been holding onto since his debut. The hat continued to cover any continued mullet-ing.
Blake Shelton's Mullet in 2005
Reportedly, 2005 was the final year of Shelton's party-in-the back hair — and his first prime-time television appearance. Several of his songs were featured in the CBS made-for-television movie The Christmas Blessing, which starred Neil Patrick Harris and Rebecca Gayheart, and Shelton had a small role singing one of his songs at a benefit concert in the film.
Shelton reportedly cut his long locks off in 2006.
Bonus: Blake Shelton's Quarantine Mullet in 2020
But in 2020, while quarantining with now-wife Gwen Stefani in Oklahoma, Shelton brought the mullet back, at least in miniature, with Stefani's help.
They showcased their handiwork on The Tonight Show Starring Jimmy Fallon in an April 2020 episode.
Watch The Voice on NBC Mondays at 8/7c and Tuesdays at 9/8c and next day on Peacock.