NBC Insider Exclusive
Create a free profile to get unlimited access to exclusive show news, updates, and more!
Sign Up For Free to View
Why Niall Horan Called Ryley Tate Wilson's Audition the 'Best One' the Coaches Have Seen
Ryley Tate Wilson's performance of "Dancing On My Own" caused all four Coaches to turn their chairs during the Blind Audition.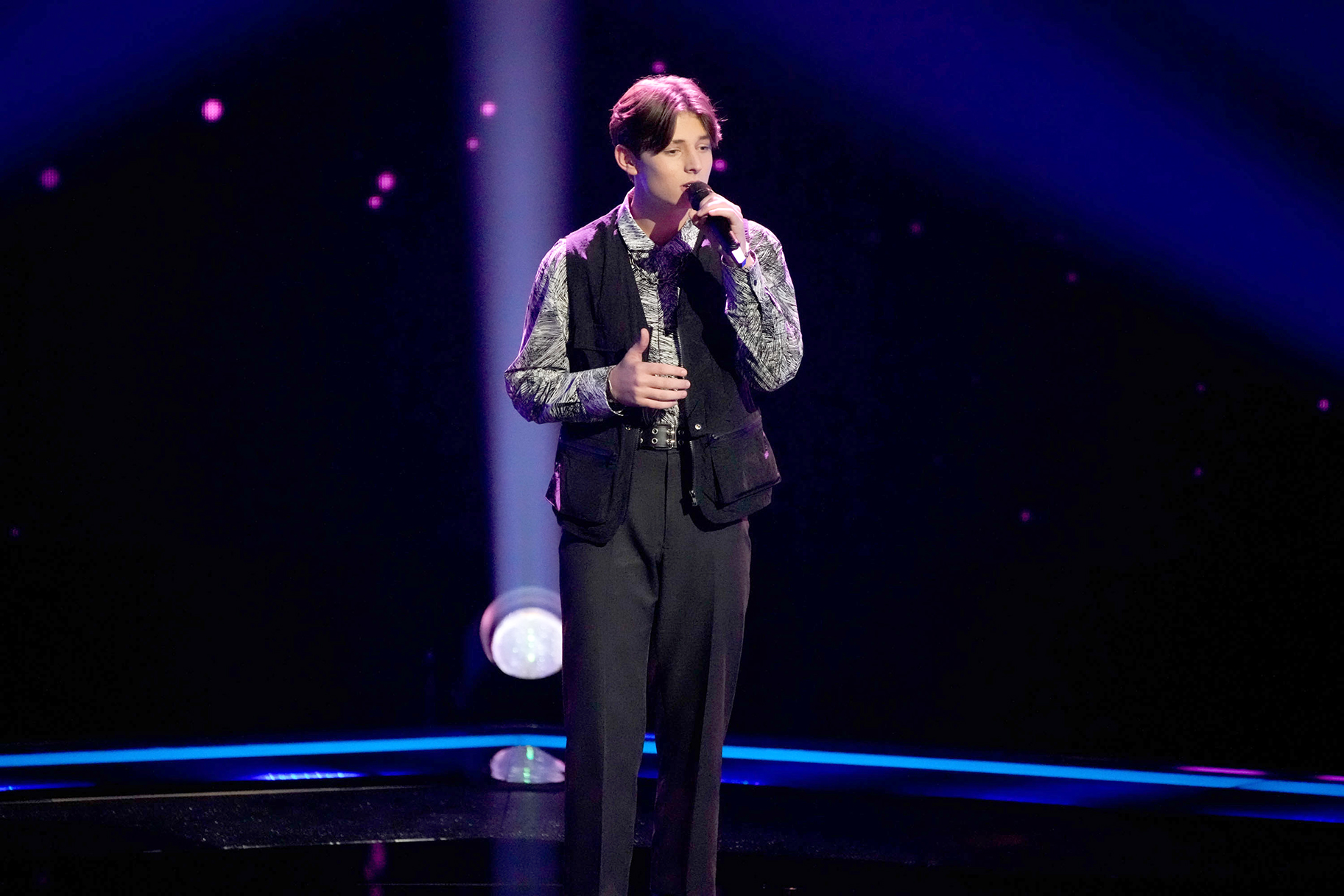 It was his first time on an airplane and in La-La Land, but nerves didn't stop Ryley Tate Wilson from singing his heart out during the Blind Auditions for The Voice Season 23, getting the coveted four-chair turn from the Coaches, and receiving a major compliment from Coach Niall Horan.
"Ryley, my head nearly exploded. That was the best audition we've seen here by a long shot," Horan said.
At only 15 years old, Wilson plays guitar, piano, ukulele, and drums — and he can sing. To him, seeing the chairs turn around was a dream come true.
"Some way, I want to make music my career and branch out beyond just the small community of Montgomery, Alabama," Wilson said.
His mother explained it's been a journey for the entire family as they joined host Carson Daly to watch Wilson audition.
"It's an environment where creativity is so celebrated," Wilson's mother, Kelley, said. "He's really having the time of his life."
Wilson shared he's even been building a home studio to record his own music since he was just 11 years old.
"I was 11, so I was definitely on a budget, but I think I appreciate it more since I had to pay for it myself," Wilson said.
Performing "Dancing On My Own" by Robyn for his Blind Audition, his dream came true while he sang the very first line of the show, as Coach Kelly Clarkson turned her chair, quickly followed by Horan.
At the lyrics "I know where you're at, I bet she's around," Coach Blake Shelton also turned around.
By the time he sang, "I'm at the corner, watching you kiss her," Wilson had Clarkson and Horan up and dancing in their chairs.
Coach Chance the Rapper turned his chair by the lyric, "I'll keep dancing on my own" at the end of the song — making for a four-chair turn Blind Audition.
As he revealed he was only 15, Clarkson said, "Wait, wait, wait, I didn't hear anything after 15. You're 15 and sounding like that? Oh my god."
Wilson admitted he was nervous to sing for the coaches.
"I remember when I was 15 auditioning for a show like this, I was shaking like a leaf," Horan said. "I could hear no sense of nerves. It's so nice to hear a 15-year-old have that confidence in their own ability. It felt like if I was to get you to sing that song again, you wouldn't sing it the same way twice. That is an amazing way to keep people on their toes."
Wilson told the Coaches he has one song out already. You can find "Anna Magdelena" on Spotify.
"You definitely have that storyteller element to your voice from just the second you open your mouth," Horan said.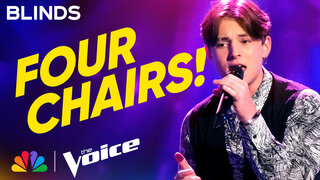 Clarkson tried to woo Wilson to her team by pointing out she was the first to turn her chair, and adding she's had success on The Voice coaching young talent. 16-year-old Brynn Cartelli won Season 14 as part of Team Kelly.
"Because I heard your tone, and I was like, it's incredible," Clarkson said. "Your voice is insane. Your runs were crazy good — they weren't planned. They were felt. If you're feeling that at 15, wow, I would love a chance to work with you."
Chance the Rapper also praised Wilson's runs during the song.
"Ryley, you're insanely talented. That was fire," Chance said. "What really caught me was the ending where you kind of just improvised with the runs, and really just felt the song out. I love how controlled the runs are — it felt very experimental R&B, like you said."
RELATED: Who Are Blake Shelton's Most Frequent Songwriting Partners?
Shelton also pitched to get Wilson on his team, despite protests from the other Coaches.
"I'll tell you this, I've been coaching here for 23 seasons, and I've won with all kinds of artists," Shelton said. "You pick me as your Coach, and I will quit coaching after this season. I'm telling you right now, I will walk away — I will be satisfied that I got the chance to work with you."
Faced with a choice of all four Coaches, Wilson looked to his family for help, but they indicated it was his choice — a choice that landed with Team Niall.
Host Carson Daly asked Wilson why he picked Team Niall.
"Since he was performing at my age, and going through a voice change, and he would really guide me through singing through a voice change," Wilson said.
Horan did a dance on stage in front of Shelton and the other coaches to celebrate snagging the 15-year-old.
"Ryley, Ryley, Ryley, how do we even start this?" Horan said. "He's got so much character in his voice, and I could see a lot of myself in there, like we were a match made in heaven. He's a real one to watch in this competition."
Watch The Voice on NBC Mondays at 8/7c and Tuesdays at 9/8c and next day on Peacock.