NBC Insider Exclusive
Create a free profile to get unlimited access to exclusive show news, updates, and more!
Sign Up For Free to View
Blake Shelton Reveals the Moment He Knew Niall Horan Was Meant to Be His Son
Maybe Horan will follow in Shelton's footsteps! Watch the Coaches on The Voice on NBC.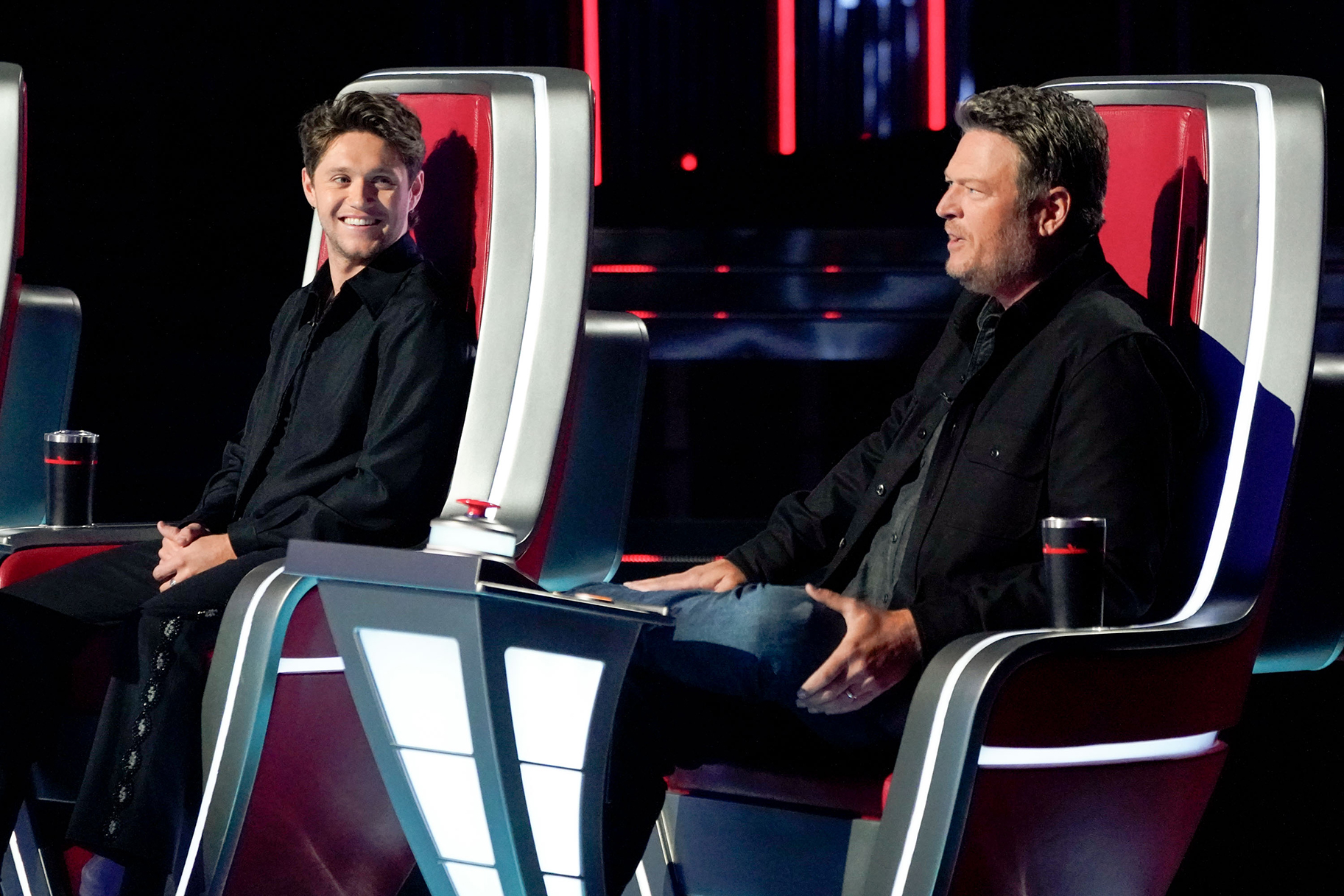 Blake Shelton surely knows how to make everyone laugh, especially his fellow Voice Coach Niall Horan!
Shelton recently took to his Twitter to share a sentimental snapshot of himself gesturing to Horan, and Horan sporting a massive grin on his face while they're in the Coaches' chairs. And if you can't tell, they're wearing matching outfits, too. 
"I knew he was meant to be my son when he laughed at all my jokes @NiallOfficial .. #TeamBlake #TheVoice," Shelton captioned the photo. If you're watching The Voice this season, you know Horan's been getting a kick out of Shelton. 
Horan talked about his experience working with funnyman Shelton in an interview with NBC Insider. "It's been amazing to work with Kelly Clarkson and Blake Shelton. Meeting them for the first time, the bond that I've grown with them has been amazing. It's been so funny to dive into that Southern sense of humor with them and see the stuff that goes on behind the scenes. It's been hilarious," he said.
Horan continued about the nature of his father-son-like bond with Shelton, "Blake, he's like a dad to me. Y'know, he's really helped me during the show. I've really enjoyed his company and watching him has been a real honor."
Shelton announced that Season 23 of The Voice will be his last, and we will surely miss his wisecracking antics and playful rivalry with the other Coaches.
"I've been wrestling with this for a while, and I've decided that it's time for me to step away from The Voice after Season 23," Shelton said in a statement. "This show has changed my life in every way for the better, and it will always feel like home to me. It's been a hell of a ride over these 12 years of chair turns, and I want to thank everyone at The Voice from NBC, every producer, the writers, musicians, crew and catering people; you are the best."
He continued. "It takes a lot of work, passion, and adult beverages (Ha!) to pull off a live show twice a week. I've made lifelong bonds with Carson and every single one my fellow Coaches over the years, including my wife Gwen Stefani! I have to give a huge shoutout to the singers–the 'Voices,' who come on this stage season after season and amaze us with their talent, and a special thanks to those who chose me to be their Coach. Lastly, it's about y'all, the fans, who watch and support these Artists, us Coaches, and everyone at The Voice who are chasing their dreams. It would not happen without you!"
Watch The Voice on NBC Mondays at 8/7c and Tuesdays at 9/8c and next day on Peacock.