NBC Insider Exclusive
Create a free profile to get unlimited access to exclusive show news, updates, and more!
Sign Up For Free to View
Why Niall Horan Says It's 'a Real Honor' Working With Blake Shelton
"Blake, he's like a dad to me," Horan told NBC Insider. Watch The Voice on NBC.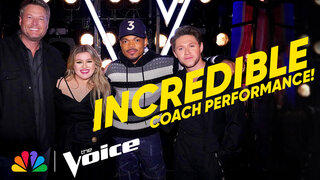 New The Voice Coach Niall Horan is clearly a fan of Blake Shelton for many reasons. In an interview with NBC Insider, he gave some details about his experience working with the OG Coach this year. 
"It's been amazing to work with Kelly Clarkson and Blake Shelton. Meeting them for the first time, the bond that I've grown with them has been amazing. It's been so funny to dive into that Southern sense of humor with them and see the stuff that goes on behind the scenes. It's been hilarious," he said.
Horan continued, "Blake, he's like a dad to me. Y'know, he's really helped me during the show. I've really enjoyed his company and watching him has been a real honor." (Season 23 will be Shelton's last on The Voice, and he will be dearly missed).
Horan also talked about what makes Season 23 unique in terms of skill.  "I can't say I've watched every single season back to back, but what I would say about the Artists this year is the talent is off the scale. I'm seeing it here from my own two eyes, performance after performance," he said to NBC Insider.
"We've got [an] amazing age range, and what I would say is our younger stars are just so mature. They're ages you would look at on paper and go, 'Whoa,' but the maturity and their performances and in their vocals [are] insane. You're in for a real ride, America," he continued with excitement.
In another interview with NBC Insider, Niall Horan revealed the best parts about being a Coach on The Voice. "I love finding new talent online and things, so I really wanted to get involved and find a new crop of talent that we can nurture and make careers of," he said. "I'm excited to win this thing. I've got an unbelievable team of ridiculous talent. I didn't hit my buzzer every time, because I was being super picky about who I wanted on my team. I wanted all different types of singers, all different types of genres, just wanted character." 
Horan expressed a similar sentiment in an interview with the radio show 2FM Breakfast With Doireann, Donncha and Carl. "The great part is picking the team," he said to the Hosts. "You get a team of 10 and that's great; you're pressing the red button, it's out-pitching Kelly Clarkson, it's all that kind of stuff. That's the great part."
"Then, the rest of it is basically picking songs for people, which I love, coming up with musical arrangements with the band and the Artist, which is really cool. It's actually a lot more interactive than I thought it would be with the Artists," he added.
Watch The Voice on NBC Mondays at 8/7c and Tuesdays at 9/8c and next day on Peacock.