NBC Insider Exclusive
Create a free profile to get unlimited access to exclusive show news, updates, and more!
Sign Up For Free to View
The Voice Season 23 Coaches Just Performed Together For the 1st Time—And Crushed It
Their song selection was A+.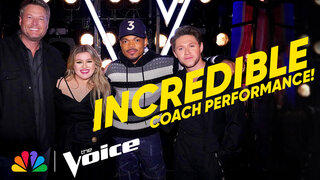 The Season 23 premiere of The Voice is quickly approaching, and Coaches Blake Shelton, Kelly Clarkson, Niall Horan, and Chance the Rapper are celebrating with a group performance that's just too good to be true. 
In a new promo for Season 23, the Voice Coaches gather for an intimate performance of Frankie Valli's "Can't Take My Eyes Off You." The romantic ballad is a vocal gauntlet, but with this red chair crew of powerhouse performers, it made for an all-out mesmerizing set. The jazzy single is a sublime choice for the Coaches as it effortlessly caters to each of their strengths. Better yet, you can tell the Coaches are truly having fun while performing together. And isn't that what The Voice is all about?
Chance kicks off the feel-good performance, taking to the smooth jazz arrangement like a natural as Clarkson trills beneath the beat. As Shelton picks up at the line, "At long last love has arrived," he teasingly points to Horan, who reciprocates the gesture in earnest and giggles as Shelton pretends to pray with, "And I thank God I'm alive." At one point, Horan playfully gestures to Shelton while singing, "You'd be like heaven to touch." The Horan/Shelton bromance is already in full force, and we haven't even started Blind Auditions! 
And launching us into the chorus is Chance, delivering seriously angelic vocals. And picking up where Chance drops off is queen of the belt, Clarkson, whose voice leaves goosebumps as she effortlessly slides between notes. As the Coaches sing, Chance continues to provide that melodic riff beneath, slightly tweaking the song to embrace modern influences.
But if there's anyone truly feeling himself during the performance, it's Shelton, who seems to be having fun while singing to his fellow Coaches, even pointing to his rival, Clarkson, a few times. Season 23 is Shelton's final season of The Voice, so it seems like the self-proclaimed king has a lot of love to give.
The Season 23 Voice Coaches really set the bar with their heartwarming rendition of this Frankie Valli classic. Fans get Clarkson's belt, Chance's timbre, Shelton's twang, and Horan's charm all in one set, with their voices flawlessly coming together to create an electrifying performance. We can't wait to see what other jaw-dropping numbers are still on the horizon! 
Watch The Voice Season 23 when it premieres Monday, March 6 at 8/7c on NBC and the next day on Peacock.