NBC Insider Exclusive
Create a free profile to get unlimited access to exclusive show news, updates, and more!
Sign Up For Free to View
Why Blake Shelton 'Doesn't Feel Good' About Giving Up His Chair on The Voice
"I literally don't wanna hand my chair off," Shelton said. Watch The Voice on NBC.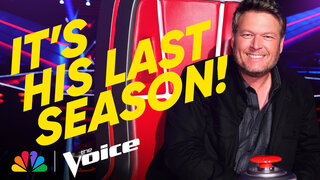 Blake Shelton has made many wonderful memories on The Voice, from his connection with other Coaches to his invaluable advice to Artists who look up to him. But for his final season, there's one thing that he says he'll miss most: his seating arrangement.
"The hardest part about filming my final season of The Voice is I'm very territorial about this particular chair that I'm sitting in," he said in an interview with NBC Insider.  I'm trying to negotiate and work out a deal where I can actually take my chair with me. I mean, it's one thing to say,  'I'm handing my chair off to the next Coach' or whatever, but I literally don't want to hand my chair off to whoever the next Coach is. I wanna take this one with me."
"I understand they need to use this area, but I don't feel good about letting someone else use my chair," he joked.
Shelton is clearly attached to that red swivel chair, as he also brought it up in an interview with People.
"I feel like they owe me a damn chair." he told the outlet. "I mean, who else can sit in my chair? It's like the three bears—I don't want anybody else sitting in my chair. I'm gonna try to get that away from them. Maybe I'll have to buy it or something."
Shelton will be saying goodbye to his chair after Season 23 of The Voice. "I've been wrestling with this for a while, and I've decided that it's time for me to step away from The Voice after Season 23," Shelton announced in a statement. "This show has changed my life in every way for the better, and it will always feel like home to me. It's been a hell of a ride over these 12 years of chair turns, and I want to thank everyone at The Voice from NBC, every producer, the writers, musicians, crew and catering people; you are the best."
"It takes a lot of work, passion, and adult beverages (Ha!) to pull off a live show twice a week. I've made lifelong bonds with Carson [Daly] and every single one my fellow Coaches over the years, including my wife, Gwen Stefani! I have to give a huge shoutout to the singers–the 'Voices,' who come on this stage season after season and amaze us with their talent, and a special thanks to those who chose me to be their Coach. Lastly, it's about y'all, the fans, who watch and support these Artists, us Coaches, and everyone at The Voice who are chasing their dreams. It would not happen without you!" he added.
Starting March 6, watch The Voice on NBC Mondays at 8/7c and Tuesdays at 9/8c and next day on Peacock.