NBC Insider Exclusive
Create a free profile to get unlimited access to exclusive show news, updates, and more!
Sign Up For Free to View
This Singer Ultimately Convinced Blake Shelton to Become a Coach on The Voice
Once upon a time, Blake Shelton wasn't sure if The Voice was for him, but fate had other plans.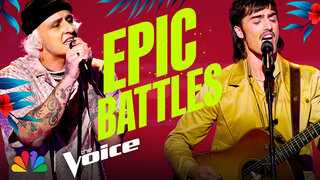 It's hard to imagine The Voice without its longtime Coach Blake Shelton. But sadly, Season 23 (airing in March) will be the country star's last rotation in a red chair. So, naturally, he's now looking back at his time on the show. 
In a recent Access interview, Shelton revealed that when he was first pitched The Voice, he found it to be a ridiculous idea. Specifically, "the spinning chairs" threw him off, and he admitted he wasn't sure if the show was the right fit for a budding country star. We know, we know: It's hard to imagine The Voice's reigning champion with nine wins feeling this way. But, hey, it was a different time. 
Luckily, Shelton's manager helped guide him to the light. "My manager, he wouldn't let it go. And thank God," Shelton explained.
Shelton's manager showed him clips from the Holland version of the competition, slowly convincing Shelton to consider the Coach opportunity. "I watched it, and I thought, 'OK, that does look super fun. I gotta admit, you know, as goofy as the idea is, it looks like it could work,'" he said. 
And if the promise of fun and friendly competition wasn't enough, it was learning who would be joining him as a Coach that finally won Shelton over. "I remember asking my manager at the time: I was like, 'Who else is doing this?' And the first name that he said was Christina Aguilera," Shelton reveals. "I remember going, 'OK I'm in.'"
Knowing Aguilera had signed on for Season 1 was all Shelton needed to that The Voice had something great in store for him. Wanting to work on the same level as Aguilera, Shelton agreed, and history was made. In due time, Shelton would find massive success (and a future wife, Gwen Stefani) through his time as a Voice Coach.
"Thank God, you know?" Shelton mused. "I didn't let my stupidity get in the way of what ended up being the best decision maybe I've ever made in my life."
The Voice Season 23 premieres Monday, March 6 at 8/7c on NBC and next day on Peacock. After that, watch The Voice on NBC Mondays at 8/7c and Tuesdays at 9/8c and next day on Peacock.