NBC Insider Exclusive
Create a free profile to get unlimited access to exclusive show news, updates, and more!
Sign Up For Free to View
All the Fantastic Coach Performances From The Voice Season 22
Original songs, group covers, solo performances, and more!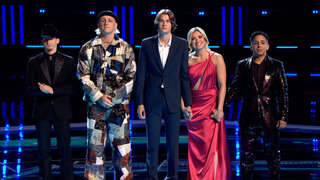 Season 22 of The Voice brought on many amazing performances, and some of the most memorable were from the Coaches themselves. They sang their hearts out together and with their team members, showing us why they became Coaches in the first place. Check out all the awesome live performances from the Coaches on The Voice Season 22, below. 
1. "Havana"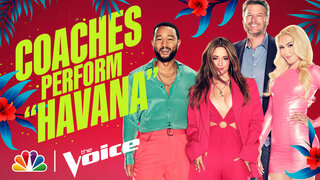 To kick off Camila Cabello's addition to Season 22, the Coaches celebrated by performing an ensemble rendition of her smash hit "Havana."
2. "Southern Nights"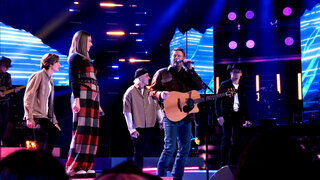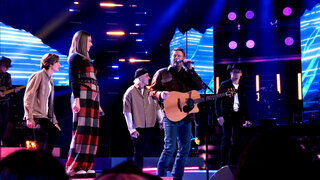 Blake Shelton brought his team onstage during the Top 13 Eliminations for a cover of "Southern Nights" by Glen Campbell. "Southern nights, have you ever felt a Southern night? Free as a breeze," Shelton sang joyfully while also playing the guitar.
3. "Happy Together"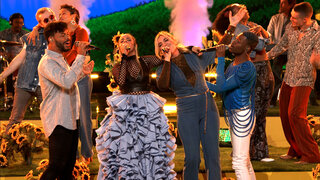 During the Top 13 Eliminations, Cabello and her team members sang a rendition of the classic tune "Happy Together" by The Turtles. "Imagine me and you, I do, I think about you day and night, it's only right," she started off the song with upbeat vocals. While the other team members joined in, Cabello sang the chorus with a smile on her face. "I can't see me lovin' nobody but you for all my life," she crooned, adding her own twist on the melody. 
4. "The Weight"

During The Top 10 eliminations, John Legend and his team sang "The Weight" by The Band. "I pulled in to Nazareth, was feeling 'bout half past dead, I just need some place, where I can lay my head," Legend sang with conviction, swaying to the music. When the chorus hit, the group harmonized seamlessly to the rhythm while disco balls glistened in front of them.
5. "Burnin' Down The House"
During this ensemble performance of the classic Talking Heads hit, Gwen Stefani and Justin Aaron performed on a stage decorated to resemble a wild house party. "Watch out, you might get what you're after," Stefani sang with energy, gesturing towards the camera. She and Aaron then jammed out together, dancing and twirling for a whimsical performance.
6. "No Body"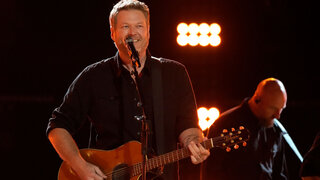 Shelton brought his own charisma to the Top 8 eliminations with a performance of his recent release "No Body." While strumming his guitar, he sang to the rhythm and looked toward the audience with confidence. "Don't wanna scoot the boots with no body, get straight tequila drunk on no body, wrap these arms around no body, no body but yours," he crooned the song's flirtatious lyrics (which we have no doubt are about his wifey, Gwen Stefani!)
7. "Nervous"