NBC Insider Exclusive
Create a free profile to get unlimited access to exclusive show news, updates, and more!
Sign Up For Free to View
Kelly Clarkson Reveals the Best—And Worst—Parts About Working With Blake Shelton
"I can't stand him, but I also love him," Clarkson said. Watch The Voice on NBC.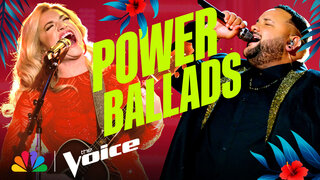 Kelly Clarkson spilled the beans to NBC Insider on how she feels about working with fellow The Voice Coach Blake Shelton. Spoiler alert: She adores him but (of course) can't help throwing a few playful jabs his way. 
The two have been known for their playful rivalry on the show, but it's apparent that they truly care for each other deep down.
"The best part about working with Blake Shelton on The Voice is you laugh a lot. He's one of the funniest people I know. He's hysterical," Clarkson told NBC Insider.
However, she had to troll him a little bit. 
"The worst thing about working with Blake Shelton on The Voice is… he is a liar," Clarkson (good-naturedly) added with a giggle.
"So that's hard to navigate because people still believe him when he's lying. Whatever. It's your choice. It's a choice," she joked with a shrug.
She then opened up about what Shelton's legacy means for The Voice.
"I actually have been talking to Blake a bit about this being his last season. And I'm like, 'It's not gonna hit you until afterwards. It's gonna hit you. It's been a part of your life for so long. And it's gonna hit you after,'" she said. "I think he knows that, but I also think he knows that it's time. He's been doing it a long time, and I think it's a really cool way that we all know he's leaving so we get the time to, like—I mean, I can't stand him, but I also love him. So we get the time to actually, like, lift him up and say how great he is. He is the ultimate Coach on this show. Everybody knows that. He's won the most, and he, honest to God, helps the Artists afterwards. And it's an incredible thing that he's done for so many Artists. It's a loss for The Voice."
She wasn't done there: "But it's a gain for humanity because we get to see less of him. So there's that!" she teased.
Blake Shelton announced in October 2022 that Season 23 of The Voice will be his last. 
"I've been wrestling with this for a while, and I've decided that it's time for me to step away from The Voice after Season 23," Shelton said in a statement. "This show has changed my life in every way for the better, and it will always feel like home to me. It's been a hell of a ride over these 12 years of chair turns, and I want to thank everyone at The Voice from NBC, every producer, the writers, musicians, crew and catering people; you are the best."