NBC Insider Exclusive
Create a free profile to get unlimited access to exclusive show news, updates, and more!
Sign Up For Free to View
Blake Shelton Just Wore a Rhinestone 'Mr. Stefani' Jacket—And It's Amazing
You can always count on Blake Shelton and Gwen Stefani's next-level romance.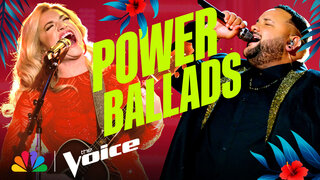 There are happy couples, and then there's The Voice power couple Blake Shelton and Gwen Stefani, who just seem to always take romance to the next level. In the latest example of this, Shelton is looking downright stylish as he flaunts a gift he recently received from his "Hollaback Girl" wifey.
As you know, Shelton and Stefani have been married since 2021 after meeting while coaching on The Voice. Their red chair love story is one for the ages, and Stefani took to Instagram to share with fans a recent gift she designed for Shelton. Needless to say, it's one of a kind!
Shelton can now rep his romance non-stop with a personalized jean jacket with "Mr. Stefani" bejeweled on the back. "Someone got a new jacket, i wonder who it could be 🧐🥰 gx @blakeshelton #BackToTheHonkyTonk," Stefani captioned the touching photo carousel, which shows Shelton wearing the jacket, flaunting the shimmering "Mr. Stefani" with pride. Did we expect anything less from him? 
Shelton is currently preparing for his final season of The Voice. And his longtime rival Kelly Clarkson has some thoughts on her fellow Coach's departure. 
"I actually have been talking to Blake a bit about this being his last season. And I'm like, 'It's not gonna hit you until afterwards. It's gonna hit you. It's been a part of your life for so long. And it's gonna hit you after,'" Clarkson told NBC Insider. "I think he knows that, but I also think he knows that it's time. He's been doing it a long time, and I think it's a really cool way that we all know he's leaving so we get the time to, like—I mean, I can't stand him, but I also love him."
"So we get the time to actually, like, lift him up and say how great he is. He is the ultimate Coach on this show. Everybody knows that. He's won the most, and he, honest to God, helps the Artists afterwards. And it's an incredible thing that he's done for so many Artists. It's a loss for The Voice," Clarkson admitted, before playfully teasing, "But it's a gain for humanity because we get to see less of him. So there's that!"
Watch The Voice on Peacock and NBC. Season 23 premieres Monday, March 6 at 8/7c and the next day on Peacock.