NBC Insider Exclusive
Create a free profile to get unlimited access to exclusive show news, updates, and more!
Sign Up For Free to View
Blake Shelton and Gwen Stefani Did a Beautiful, Kiss-Filled Valentine's Duet
They're totally relationship goals this V-Day! Watch The Voice on NBC in March.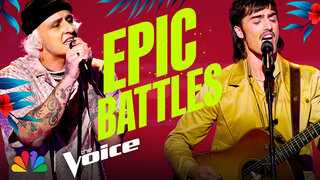 Blake Shelton and Gwen Stefani celebrated Valentine's Day in the best way together: by performing a touching duet!
On February 14, Shelton took to his official Instagram page to post an artsy, black-and-white video of himself and Stefani singing their love song "No Body But You" together. In the clip, Stefani rocked a pair of pointy, knee-high boots, edgy fishnets, and a mesh ruffled top.
"I don't wanna live without you, I don't wanna even breathe, I don't wanna dream about you, wanna wake up with you next to me," they crooned the song's lyrics together passionately.
"I don't wanna go down any other road now I don't wanna love no body but you," they sang, with Stefani looking overwhelmed with love.
"Lookin' in your eyes now, if I had to die now, I don't wanna love no body but you," they continued with emotion, looking lovingly into each other's eyes.
They then shared a romantic embrace–Stefani had her arms wrapped around Shelton, grinning ear to ear while he gave her an affectionate peck on the cheek in a perfect, picturesque moment.
"Tag your Valentine! -Team BS #valentinesday #lovesongs #relationshipgoals," Shelton captioned the post. Relationship goals indeed!
Shelton and Stefani have performed gorgeous renditions of this song together on stage many times. On February 10, Shelton brought Stefani on stage during a show in Arizona to perform the track. 
The two then sang the touching ballad while Shelton strummed on his guitar and Stefani rocked an edgy bomber jacket, a sleek high ponytail, and red lipstick.
Other heartwarming performances of "No Body But You" include a duet at the 2020 Grammy Awards. During this rendition, Shelton kicked things off with his guitar while Stefani joined him onstage during the second verse, looking stunning in a ballgown. The couple later went on TODAY to do a vulnerable acoustic version of the song, looking as in love as ever as they harmonized.
Shelton and Stefani met when they were both Coaches on The Voice in 2014, and they tied the knot in 2021. Shelton announced in October 2022 that Season 23 of The Voice will be his last; he cited one of the reasons for his departure as wanting to spend more time with his loved ones.
"We're looking forward to doing some of that family stuff together. It's 'gonna be great," Stefani told Extra in November 2022.