NBC Insider Exclusive
Create a free profile to get unlimited access to exclusive show news, updates, and more!
Sign Up For Free to View
Blake Shelton's 2023 Tour: Everything to Know
The Voice Coach will be performing concerts in over 15 cities! Check them out here.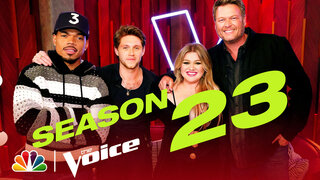 Blake Shelton may be coming to a city near you in 2023!
The Voice Coach is kicking off his Back to the Honky Tonk Tour on February 16, and the concerts will continue around the United States until late March. Opening Acts include Carly Pearce and Jackson Dean, and tickets can be purchased at blakeshelton.com. Here's everything you need to know about Blake Shelton's 2023 tour.
Where is Blake Shelton performing on his 2023 tour?
Blake Shelton will be having a concert in the following cities:
February 16, 2023, Pinnacle Bank Arena, Lincoln, NE
February 17, 2023, Denny Sanford Premier Center, Sioux Falls, SD
February 18, 2023, Xcel Energy Center, Saint Paul, MN
February 23, 2023, Greensboro Coliseum, Greensboro, NC
February 24, 2023, Thompson Boling Arena, Knoxville, TN
Feb 25, 2023, Legacy Arena At The BJCC, Birmingham, AL
March 2, 2023, Vystar Veterans Memorial Arena, Jacksonville, FL
March 3, 2023, Amalie Arena, Tampa, FL
March 4, 2023, Amway Center, Orlando, FL
March 9, 2023, KFC Yum! Center, Louisville, KY
March 10, 2023, Nationwide Arena, Columbus, OH
March 11, 2023, Gainbridge Fieldhouse, Indianapolis, IN
March 16, 2023, Simmons Bank Arena, North Little Rock, AR
March 17, 2023, Paycom Center, Oklahoma City, OK
March 18, 2023, T-Mobile Center, Kanas City, MO
March 23, 2023, Heritage Bank Center, Cincinnati, OH
March 24, 2023, PPG Paints Arena, Pittsburgh, PA
March 25, 2023, Keybank Center, Buffalo, NY
What are Blake Shelton's hits?
Fingers crossed he'll perform these songs on tour!
"Austin"
Shelton rose to the scene in 2001 with his debut single "Austin," which was his first major hit. It tells the story of a man who leaves a voicemail to his ex-girlfriend to remind her that he still loves her.
"You've gotta listen to the whole song, because that last chorus hits and you're like–it's so good!" Kelly Clarkson said of the tune when she and Shelton performed a duet of it on The Kelly Clarkson Show.
"No Body"
This upbeat tune was released in 2022, and the lyrics are so romantic. 
"Don't wanna scoot the boots with no body, get straight tequila drunk on no body, wrap these arms around no body, no body but yours," he sings. Better yet, the music video features him decked out in a throwback-style mullet.
"God's Country"
This song includes an intense rhythm and gritty vocals from Shelton. You can catch an epic duet of him performing it on The Voice Season 22 finale.
"It's really about a state of mind. Wherever you're from and how you feel about that place. For me, it's about being from Oklahoma–where I was born, raised, and still live today," Shelton said of the song in 2019.
As of right now, "God's Country" has over 180 million views on YouTube.
"Happy Anywhere"
A touching duet with his wife Gwen Stefani, this tune is a hit off his most recent 2021 album titled Body Language.
"Since I met you, I swear I could be happy anywhere," the heartwarming lyrics say. Shelton and Stefani also performed an adorable rendition of the song during The Voice Season 20 Finale.
"Honey Bee"
This timeless track is as sweet as honey, and even garnered Shelton a Grammy nomination in 2012.
"You'll be my sunny day, I'll be your shade tree, You'll be my honeysuckle, I'll be your honey bee," he sings the smooth lyrics.
You can also watch Kelly Clarkson's cover of the song here.
What are Carly Pearce's songs?
"Every Little Thing"
This emotional ballad is off Pearce's 2017 debut album of the same name, and it's her first hit. It tells the story of someone who deeply misses a former lover.
"Never Wanted to Be That Girl"
This 2021 track is from Pearce's third album 29: Written in Stone. It features Ashley McBryde, and was nominated for a Grammy for "Best Country/Pop Duo Performance."
"Next Girl"
This song is classic country tune with a modern twist. The clever lyrics depict Pearce warning her ex-boyfriend's next lover about his antics.
What are Jackson Dean's songs?
"Don't Come Lookin'"
This rising Artist released his debut single "Don't Come Lookin'" in 2021. A country-rock inspired track, the lyrics show Dean's free-spirited and adventurous nature.
"Wings"
This ballad comes with passionate vocals and soothing guitars. "I wish I could fly high above everything," he sings.
"Trailer Park"
This song comes with a twangy rhythm and continues Dean's rebellious, edgy persona.  
"I write songs that try to define intangible, intense things I've seen, done and felt," Dean told The Tennessean.
Blake Shelton's Back to the Honky Tonk setlist
Spoilers ahead! But here are some songs Shelton has played on his tour:
"Come Back as a Country Boy"
"All About Tonight"
"A Guy with a Girl"
"Neon Light"
"Sangria"
"Gonna"
"I'll Name the Dogs"
"Mine Would Be You"
"Lonely Tonight" (With Carly Pearce)
"Happy Anywhere"
"Nobody but You"
"The More I Drink"
"Playboys of the Southwestern World"
"Home" (Michael Bublé cover)
"Some Beach"
"Ol' Red" (George Jones cover)
"Austin"
"No Body"
"Sure Be Cool If You Did"
"Honey Bee"
"Hillbilly Bone"
"Boys 'Round Here"
"God's Country"