NBC Insider Exclusive
Create a free profile to get unlimited access to exclusive show news, updates, and more!
Sign Up For Free to View
Blake Shelton Did the Sweetest Duet of His Song 'Austin' With Kelly Clarkson
Their voices will leave you in tears.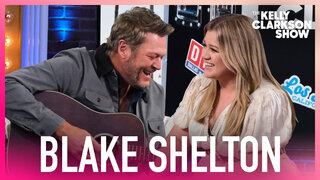 The Voice reunion alert! Current Coach Blake Shelton popped by The Kelly Clarkson Show on September 19 and performed a duet of his 2001 song "Austin" with Clarkson, a Voice alumna herself. And what happened next will have you reaching for the tissues.
As Shelton sat on the couch with his guitar, the always upbeat Clarkson mentioned she wanted to join in on the song. "I've never heard you sing on this show, so that's cool," Shelton said jokingly, referencing Clarkson's many show-stopping Kellyoke moments. "I watch your show everyday," he added. Looks like he's a big fan, as well!
Shelton gently strummed the intro of the song and crooned the emotional melody, then Clarkson joined in on the chorus. "If it's anybody else, wait for the tone, you know what to do. And P.S, if this Austin, I still love you," Clarkson sang, finishing on a powerful note as the crowd erupted in cheers.
"You've gotta listen to the whole song, because that last chorus hits and you're like–it's so good!" Clarkson exclaimed, referring to the song's uplifting ending. 
"Austin" is Shelton's first major country hit and tells the story of a man who leaves a message on his voicemail machine to his ex-girlfriend, reminding her that he still loves her. It's a beautiful tune.
To get more of Kelly Clarkson and Blake Shelton, be sure to check your listings for The Kelly Clarkson Show, and watch The Voice on NBC Mondays and Tuesdays at 8/7c and next day on Peacock.