NBC Insider Exclusive
Create a free profile to get unlimited access to exclusive show news, updates, and more!
Sign Up For Free to View
Gwen Stefani Reveals Why Blake Shelton Decided to Leave The Voice
"It wasn't my decision," she said.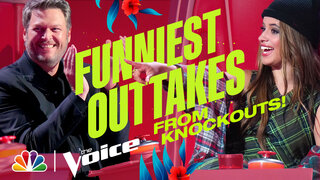 After Blake Shelton announced that the upcoming Season 23 of The Voice will be his last, his wife and fellow Coach, Gwen Stefani, gave some insight on his departure during the Live Shows red carpet on November 14.
"I think that Blake–I don't know, I think he just wants more time, you know what I mean? I don't know that people realize, if he's doing two seasons a year, right? In between that, he's touring. So he actually has two teams at the same time at a certain point, so they overlap. So it's a lot of brain power, it's a lot of time away from the family, those kinds of things. I think he just got to a point where he just wants time in his ranch, like time to just do the other things that he loves to do," she told Extra.
Stefani continued, "And I'm totally speaking for you, Blake, sorry! I'm married to you so I can say whatever I want! But it's just, I'm excited for him because, you know, we have lives outside of work, and it's a really good life, it's really fun, and we have so much fun! We have Oklahoma, which is something I never knew I needed and wanted, you know? We planted a garden, we do all kinds of fun stuff. So we're looking forward to doing some of that family stuff together. It's 'gonna be great."
The pop icon added, "But I feel sorry for [the Artists on The Voice] because honestly, he's so talented, he's so funny, and he's so great on the show, and I'm sorry, guys, but it wasn't my decision. It's totally him and I'm excited to see what's 'gonna come next. 'Cause I bethca something's out there that we don't even know about." 
Watch The Voice on NBC Mondays and Tuesdays at 8/7c and next day on Peacock.