NBC Insider Exclusive
Create a free profile to get unlimited access to exclusive show news, updates, and more!
Sign Up For Free to View
Where Are Blake Shelton's The Voice Winners Now?
They've all pursued their love for music under Blake Shelton's guide! Watch The Voice on NBC.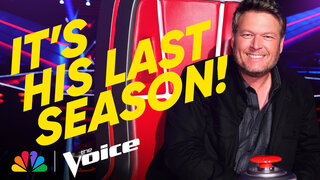 Throughout his 23-season run on The Voice, Coach Blake Shelton has been known to go above and beyond for the Artists on his team. Not only has his thoughtful mentorship given him nine wins, he is also dedicated to his Artists' paths after the show.
"[Blake] really wants to push for his Artists. He really wants them to have a career afterwards," Coach Kelly Clarkson agreed.
But where exactly are the Team Blake winners now? Here's everything you need to know.
Where are Blake Shelton's The Voice winners now?
Jermaine Paul (Season 2)
Before his time on The Voice, Paul was nominated for a Grammy for his duet of "If This World Were Mine" with Alicia Keys.
In 2012 for his The Voice debut, Paul chose Team Blake after auditioning with "Complicated" by Avril Lavigne. His winning song, a cover of "I Believe I Can Fly" made it to the Billboard Hot 100. Clearly wanting some more of that Blake Shelton magic, he and Shelton then later recorded a single titled "Soul Man" together.
"Nowadays, I'm more control of my own destiny," Paul said regarding the effect of his The Voice victory, according to US Weekly.
Cassadee Pope (Season 3)
Shelton roped in two wins in the same year with Cassadee Pope. The country-pop singer is regarded as one of the most successful The Voice Artists to date, as her 2013 album Frame by Frame reached the number-one position in the U.S. country charts. In 2015, she was also nominated for a Grammy for her duet "Think of You." She released her latest single "RSVP" in 2022.
Danielle Bradbery (Season 4)
Continuing his winning streak, Shelton's third win in a row was with Danielle Bradbery. At the time, she was the youngest Artist to win the competition at the age of 16. She released her self-titled album later that year in 2013, and signed to major label Big Machine Records. She's also impressively performed at the Grand Ole Opry and toured with Brad Paisley. Her second album, titled I Don't Believe We've Met, was released in 2017.
Craig Wayne Bond (Season 7)
Boyd honed in his win when he sang his original song "My Baby's Got a Smile on Her Face" during the Season 7 finale. The tune ended up reaching the number-one spot on the Billboard country chart in 2014. This Nashville native also achieved the impressive accomplishment of performing at the Grand Ole Opry after his The Voice victory. In 2017, he released his album Top Shelf. 
Currently, he's in a band with fellow The Voice Team Blake Artist Adam Wakefield called Texas Hill.
Sundance Head (Season 11)
This soulful country singer won Season 11 of The Voice when he performed his original track "Darlin Don't Go" during the finale. Since then, he's signed with WildCatter Records and released his album Stained Glass and Neon in 2019.
"I put everything I could into it," Head told the Houston Chronicle about working on the record.
Chloe Kohanski (Season 13)
This rock singer was originally on Miley Cyrus' team but was rescued from being eliminated by Shelton. This turned out to be a wise choice for Shelton, as Kohanski ended up winning Season 13. Nowadays, she goes by "Chloe MK" and has released singles "Come This Far" and "To Be Young." In 2019, she toured with musician Sizzy Rocket.
Todd Tilghman (Season 18)
In 2020, Tilghman came in first place with his powerful gospel vocals. Two years later, he was invited by Coach Shelton to perform along with him at the Grand Ole Opry.
"I was a nobody from nowhere. And now I get to stand at the Artist entrance of the Grand Ole Opry. It's just wild," Tilghman told People.
Cam Anthony (Season 20)
The Coaches fought over Anthony during his Audition with Nick Jonas blocking John Legend; however, the YouTube star ended up choosing Team Blake. Since his victory, Anthony has appeared on The Ellen DeGeneres Show and performed with the Philly Pops orchestra.
"I definitely want to start making or releasing music," Anthony told TV Insider about his future plans after The Voice. So keep your ears peeled!
Bryce Leatherwood (Season 22)
Another country singer fittingly under Team Blake, Leatherwood won the most recent Season of The Voice. He first auditioned with a rendition of "Goodbye Time" by Conway Twitty and performed the tune "Hillbilly Bone" with Coach Shelton during the finale.
Although it's still super early to see where Leatherwood will end up next, he told NBC Insider that there is much to anticipate with his new projects. "I want to get some original content out there. I want to get an album or two out there in the next couple years," he said.
Watch The Voice on NBC Mondays at 8/7c and Tuesdays at 9/8c and next day on Peacock.