NBC Insider Exclusive
Create a free profile to get unlimited access to exclusive show news, updates, and more!
Sign Up For Free to View
Blake Shelton Just Called The Voice Season 23 Coaches Out on Twitter
The Coaches are all going head to head this season! Watch The Voice on NBC.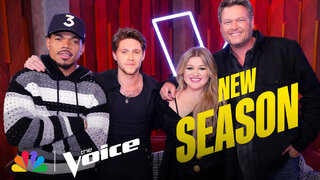 Who does Blake Shelton think will win Season 23 of The Voice? Himself, of course!
The OG Coach made a hilariously sassy comment on his Twitter account in late February, posting a sly, playful jab at fellow Coaches Kelly Clarkson, Niall Horan, and Chance the Rapper.
"Ya know, it's funny how all the other Coaches think they have a chance of winning this season…" the always-confident Shelton captioned the tweet.
Linked to the tweet is a Voice promo featuring the Coaches discussing methods on how to persuade Artists to join their teams. "Do you think I've got a chance of beating you in your final season?" Horan asked Shelton in the clip.
"No," Shelton responded defiantly without hesitation. "I would elaborate, but…no."
No explanation needed. Shelton has won The Voice nine times and will hit record-breaking double digits if he comes out on top during Season 23. However, Coach Kelly Clarkson is fierce competition, and she told NBC Insider that she's still going to bring her A-game regardless of the fact that it will be Shelton's last season.
"Will I go any easier on Blake knowing it's his last season? Do you know me at all? No!" she told us in an interview. "Do I hope secretly that he wins his last season? Maybe. But am I going to let him have it? No! I'm going to work for my Artists, and I hope they win!"
Clarkson also explained how she and Shelton have been processing his impending absence from the show.
"I actually have been talking to Blake a bit about this being his last season. And I'm like, 'It's not gonna hit you until afterwards. It's gonna hit you. It's been a part of your life for so long. And it's gonna hit you after,'" she said. "I think he knows that, but I also think he knows that it's time. He's been doing it a long time, and I think it's a really cool way that we all know he's leaving so we get the time to, like—I mean, I can't stand him, but I also love him. So we get the time to actually, like, lift him up and say how great he is. He is the ultimate Coach on this show. Everybody knows that. He's won the most, and he, honest to God, helps the Artists afterwards. And it's an incredible thing that he's done for so many Artists. It's a loss for The Voice." 
Starting March 6, watch The Voice on NBC Mondays at 8/7c, Tuesdays at 9/8c, and next day on Peacock.