NBC Insider Exclusive
Create a free profile to get unlimited access to exclusive show news, updates, and more!
Sign Up For Free to View
Why Kelly Clarkson Secretly Hopes Blake Shelton Wins The Voice Next Season
"But am I going to let him have it?" Clarkson said. Watch The Voice on NBC.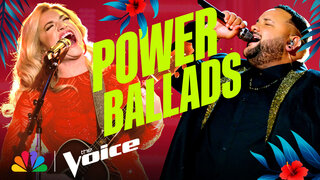 With Kelly Clarkson re-joining The Voice as a Coach after a brief hiatus, and Blake Shelton departing after Season 23, this upcoming season will surely be a whirlwind of emotions. And even though Clarkson and Shelton adore each other deep down, that doesn't mean Clarkson is going to let Shelton come on top without a fight.
"Will I go any easier on Blake knowing it's his last season? Do you know me at all? No!" Clarkson jokingly said in an interview with NBC Insider.
She then revealed something unexpected. "Do I hope secretly that he wins his last season? Maybe," she said cheekily. However, that doesn't mean she'll wave her white flag any time soon.
"But am I going to let him have it? No! I'm going to work for my Artists, and I hope they win!" she added.
In another interview with NBC Insider, Clarkson gave some playful jabs to Shelton about her experience working with him on The Voice.
"The best part about working with Blake Shelton on The Voice is you laugh a lot. He's one of the funniest people I know. He's hysterical," Clarkson said. 
Then, she made a sly remark (all in good fun!)
"The worst thing about working with Blake Shelton on The Voice is… he is a liar. So that's hard to navigate because people still believe him when he's lying. Whatever. It's your choice. It's a choice," she joked.
Clarkson then talked about how she truly feels about Shelton's departure.
"I actually have been talking to Blake a bit about this being his last season. And I'm like, 'It's not gonna hit you until afterwards. It's gonna hit you. It's been a part of your life for so long. And it's gonna hit you after,'" she said. "I think he knows that, but I also think he knows that it's time. He's been doing it a long time, and I think it's a really cool way that we all know he's leaving so we get the time to, like—I mean, I can't stand him, but I also love him. So we get the time to actually, like, lift him up and say how great he is. He is the ultimate Coach on this show. Everybody knows that. He's won the most, and he, honest to God, helps the Artists afterwards. And it's an incredible thing that he's done for so many Artists. It's a loss for The Voice."