NBC Insider Exclusive
Create a free profile to get unlimited access to exclusive show news, updates, and more!
Sign Up For Free to View
Kelly Clarkson Says She Won't Go Easy on Blake His Last Season of The Voice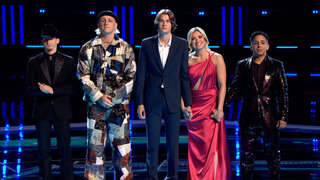 Season 23 of The Voice will be bittersweet. The sweet: It marks the return of Coach Kelly Clarkson, who took a brief hiatus from the show in Season 22.
Now, here's the bitter: It's Blake Shelton's last season on the show. The longtime Coach announced in October that he's leaving his red chair after 23 seasons. 
That's emotional, sure, but Clarkson made something clear to NBC Insider: She'll still have her eyes on the prize when it comes to her team. 
"Will I go any easier on Blake knowing it's his last season? Do you know me at all? No!" Clarkson said in a recent interview, laughing. "Do I hope secretly that he wins his last season? Maybe. But am I going to let him have it? No! I'm going to work for my Artists, and I hope they win!" 
Clarkson added, "It feels really good to be back on The Voice. I didn't know I would miss it this much. I loved getting a team together. It's very inspiring. I missed it!" 
In a statement announcing his departure from The Voice, Shelton said, "This show has changed my life in every way for the better, and it will always feel like home to me. It's been a hell of a ride over these 12 years of chair turns, and I want to thank everyone at The Voice from NBC, every producer, the writers, musicians, crew and catering people; you are the best."
The Voice Season 23 premieres March 6, 2023. Until then, watch previous episodes on Peacock and NBC.