NBC Insider Exclusive
Create a free profile to get unlimited access to exclusive show news, updates, and more!
Sign Up For Free to View
Blake Shelton Says It Will Take This to Get Him to Stay on The Voice
He says that he sees too much of this particular person! LOL! Watch The Voice on NBC.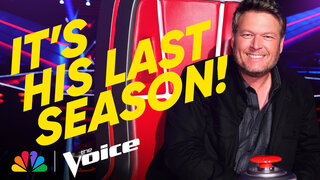 Blake Shelton and Kelly Clarkson are going head to head during Season 23 of The Voice in more ways than one. Although this season will be Shelton's last, the country singer joked there may be one thing that would cause him to reconsider his departure.
"What would it take for you to stay?" The Voice Host Carson Daly asked Shelton while interviewing him on TODAY. Of course, he didn't give a serious answer. Instead, he used the moment to throw some playful jabs at Clarkson. 
"I'd like Kelly to not be on the show anymore," Shelton jokingly responded, to which Clarkson let out a hearty laugh.
"There's too much Kelly Clarkson on television in general," he added with a smirk, clearly goofing around. 
Shelton also showed more of his playful rivalry with Clarkson in a recent interview with NBC Insider. "The worst part about working with Kelly Clarkson is…that I still have a few weeks left," he said sweetly.
Then, he turned things on its head. "And I would say the best part about working with Kelly Clarkson would be that…I mean, I only have a few weeks left, and it's over," he teased.
Clarkson, too, chimed in during an interview with NBC Insider about how she feels about working with Shelton. "The best part about working with Blake Shelton on The Voice is you laugh a lot. He's one of the funniest people I know. He's hysterical," she said sincerely.
"The worst thing about working with Blake Shelton on The Voice is… he is a liar. So that's hard to navigate because people still believe him when he's lying. Whatever. It's your choice. It's a choice," she added with sass.
That said, the two truly care about each other deep down. Clarkson went on to discuss the emotional impact that Shelton has had on The Voice.
"I actually have been talking to Blake a bit about this being his last season. And I'm like, 'It's not gonna hit you until afterwards. It's gonna hit you. It's been a part of your life for so long. And it's gonna hit you after,'" she said to NBC Insider. "I think he knows that, but I also think he knows that it's time. He's been doing it a long time, and I think it's a really cool way that we all know he's leaving so we get the time to, like—I mean, I can't stand him, but I also love him. So we get the time to actually, like, lift him up and say how great he is. He is the ultimate Coach on this show. Everybody knows that. He's won the most, and he, honest to God, helps the Artists afterwards. And it's an incredible thing that he's done for so many Artists. It's a loss for The Voice."
Watch The Voice on NBC Mondays at 8/7c and Tuesdays at 9/8c and next day on Peacock.