NBC Insider Exclusive
Create a free profile to get unlimited access to exclusive show news, updates, and more!
Sign Up For Free to View
Blake Shelton Jokes That Kelly Clarkson Got Him 'Fired' From The Voice
These two playful rivals will always make us laugh! Watch The Voice Season 23 premiere  Monday, March 6 at 8/7c on NBC.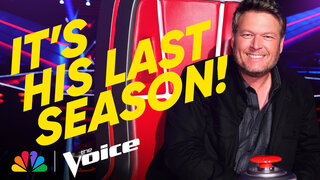 Season 23 of The Voice can't come soon enough. As Coach Blake Shelton prepares for his last rotation in a red chair, everyone's excited to see him and his playful rival, Kelly Clarkson, duke it out one more time. 
Clarkson and Shelton have a sibling rivalry as Voice Coaches. She loves to try to steal his country Artists away, while he loves ruffling her feathers. The two have become known for their banter, but deep down, everyone knows Shelton and Clarkson are besties. 
Of course, that won't stop Shelton from making good-natured jabs at Clarkson any chance he can. Exhibit A: When he stopped by Jimmy Kimmel Live to chat about his Back to the Honky Tonk Tour and joked about Clarkson getting him "fired" from The Voice. (Which, should go without saying, is obviously not true! It's just Blake Shelton being Blake Shelton!) 
"Kelly finally got me fired," Shelton joked, earning him a laugh from the audience. "I wanted to announce that here, on the show: Kelly Clarkson actually got me fired."
Like we said, Clarkson didn't really get Shelton fired. Even still, he was keen to joke about Clarkson's reign over the masses with The Kelly Clarkson Show and her role on The Voice. "She's on every late-night show, she's got the daytime," Shelton quipped. 
As for Clarkson she told NBC Insider about Shelton, "I actually have been talking to Blake a bit about this being his last season [of The Voice]. And I'm like, 'It's not gonna hit you until afterwards. It's gonna hit you. It's been a part of your life for so long. And it's gonna hit you after.' I think he knows that, but I also think he knows that it's time." 
She continued, "He's been doing it a long time, and I think it's a really cool way that we all know he's leaving so we get the time to, like—I mean, I can't stand him, but I also love him. So we get the time to actually, like, lift him up and say how great he is. He is the ultimate Coach on this show. Everybody knows that. He's won the most, and he, honest to God, helps the Artists afterwards. And it's an incredible thing that he's done for so many Artists. It's a loss for The Voice." 
The Voice Season 23 premieres Monday, March 6 at 8/7c on NBC and next day on Peacock.