NBC Insider Exclusive
Create a free profile to get unlimited access to exclusive show news, updates, and more!
Sign Up For Free to View
The 'Cool' Way Kelly Clarkson Says The Voice Artists Are Different This Year
"It's a really cool season," Clarkson said. Watch The Voice on NBC.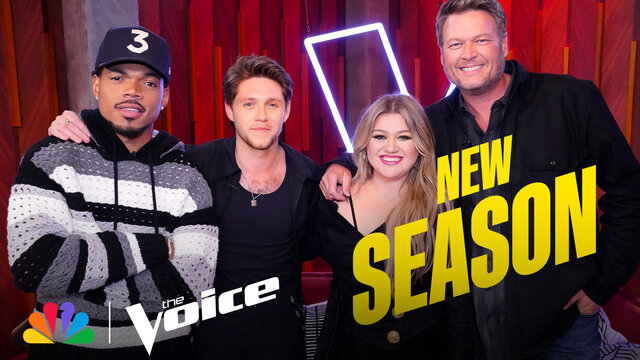 The Voice has featured an abundance of mind-blowing singers throughout its run. Artists from a wide range of genres and techniques have been shaped to reach their full potential via the valuable mentorship of the expert Coaches. And according to Coach Kelly Clarkson, the upcoming Season 23 will be extra special. But what exactly should fans expect as far as talent for the much-anticipated Season 23? Clarkson weighed in during an interview with NBC Insider.
According to her, not only do the Season 23 Artists have some serious pipes, but their creativity puts the cherry on top with making their group stand out.
"The Artists this season on The Voice are…they're Artists. I would say most of the time you're paying attention to vocals only; there seem to be a lot of vocalists who are crazy good vocalists but also very much Artists in their own right," Clarkson said to NBC Insider. "They're already writing, already producing their stuff, already in the studio, and that's a really cool thing. Even the young ones, it's a really cool season filled with a plethora of different Artists. And that's cool," she elaborated.  
Season 23 will also be unique for another bittersweet reason. While Clarkson will be returning after a brief hiatus, it will be Blake Shelton's last run as a Coach. Shelton has been consistently coaching on The Voice since Season 1 and has won nine times, and his presence will be dearly missed.
"I actually have been talking to Blake a bit about this being his last season. And I'm like, 'It's not gonna hit you until afterwards. It's gonna hit you. It's been a part of your life for so long. And it's gonna hit you after,'" Clarkson told NBC Insider. "I think he knows that, but I also think he knows that it's time. He's been doing it a long time, and I think it's a really cool way that we all know he's leaving so we get the time to, like—I mean, I can't stand him, but I also love him. So we get the time to actually, like, lift him up and say how great he is. He is the ultimate Coach on this show. Everybody knows that. He's won the most, and he, honest to God, helps the Artists afterwards. And it's an incredible thing that he's done for so many Artists. It's a loss for The Voice."
Starting March 6, watch The Voice on NBC Mondays at 8/7c and Tuesdays at 9/8c and next day on Peacock. 
NBC Insider is your all-access pass to some of your favorite NBC shows. Go behind-the-scenes, stay on top of breaking news, hang with the stars, and much more.