NBC Insider Exclusive
Create a free profile to get unlimited access to exclusive show news, updates, and more!
Sign Up For Free to View
Why Tasha Jessen's 'Perfectly Raw and Beautiful' Knockout Made Niall Horan Steal Her
NOIVAS and Tasha Jessen went head-to-head in The Knockouts of The Voice Season 23, the latter singing Hozier's "Take Me to Church."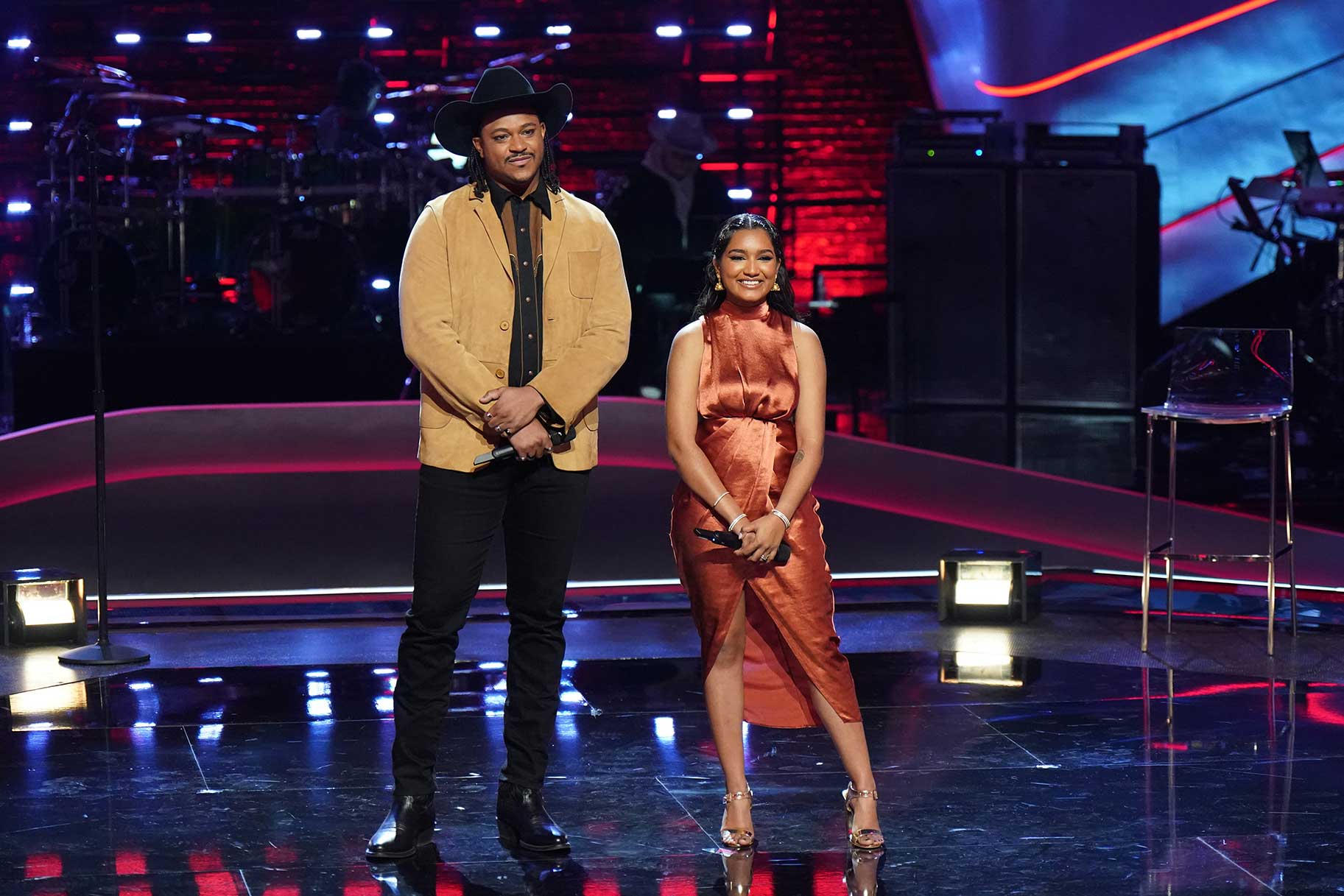 The Knockouts are here on The Voice, and with the help of Mega Mentor Reba McEntire, contestants are going head-to-head for a chance to win.
Team Blake contestants NOIVAS and Tasha Jessen headed to the studio, flustered and honored to be in the presence of country music legend McEntire and Coach Blake Shelton. Instead of sharing a song onstage to perform before the Coaches — including Shelton, Kelly Clarkson, Chance the Rapper, and Niall Horan — each contestant sang an individual tune of their choosing.
In Season 23's first round of The Knockouts, NOIVAS — self-described as a "girl-dad" from Texas — chose a Nina Simone-inspired version of Screamin' Jay Hawkins' "I Put a Spell on You." For her song, Pakistan-born singer Jessen opted for Hozier's "Take Me to Church."
NOIVAS' "incredible" rendition nearly left McEntire speechless, as she exclaimed, "Holy crap!" at the song's end. She hailed NOIVAS' "powerful" range and his inability to shy away from making eye contact with the audience.
"NOIVAS kind of has it all; I'm figuring that out," said Shelton. "He's got stage presence, he's not afraid to mean what he's singing, and that goes a long way."
Jessen chose to sing her particular song to showcase her storytelling ability for McEntire and Shelton. She described how moving from Pakistan to America opened her up to new styles of music, ultimately introducing her to soul and gospel.
During rehearsals, Shelton was slightly concerned about the song's key, fearing Jessen got lost in some of the lower notes. But it also allowed the singer to reach higher-up keys, or as McEntire put it, "the stratosphere."
"This is a tough song," Shelton admitted to producers. "It's got the lowest of lows and highest of highs, but I do think this is a good choice for Tasha to show just what she's capable of."
McEntire imparted some of her wisdom onto Jessen, instructing, "Always leave them wanting more," which is precisely what Jessen did when she and NOIVAS took the stage for The Knockouts.
NOIVAS gave a theatrical performance that brought some of the Coaches to their feet, sometimes dragging the microphone stand across the stage or falling to his knees to hit a range of powerful notes. Jessen, for her part, gave a more soulful and intimate performance, earning the praise of Coach Clarkson, who called it "perfectly raw and beautiful."
"What just happened?" remarked a flabbergasted Horan, who jokingly commented that they'd bill NOIVAS for scraping the stage with the mic stand.
"NOIVAS, every time, you just bring it," said Horan. "Dude, you're impressive."
Horan recalled turning for Jessen during her "gorgeous" Blind Audition, where she sang Leon Bridges' "River." He lamented previously losing Jessen to Coach Shelton, who was first to turn his chair, commenting that Hozier himself would be impressed by Jessen's rendition of "Take Me to Church."  
On the other hand, Chance thought NOIVAS had the advantage in The Knockouts, despite Jessen's "control" in the lower register, which he called "fire." He reminded NOIVAS that he was initially on Team Chance — before Shelton used his steal — and said he "felt the lyrics coming towards me," as though it could have been a diss record.
Chance couldn't deny NOIVAS, saying, "I'm a fan."
RELATED: Why Chance the Rapper Turned at the Literal Last Second for "Unforgettable" Ray Uriel
Clarkson couldn't decide which of the two singers belonged to go into the Playoffs, and Shelton agreed the choice was as good as a coin flip. He called NOIVAS' performance "wild," adding the singer's talent was "shocking and fearless." And though Shelton asked himself why Jessen wasn't already a star, he ultimately picked NOIVAS to go into the Playoffs.
"The guy can sing circles around anybody, but now I'm realizing he can also out-perform anybody on the show," Shelton later told producers. "I really think this guy has a shot of winning this thing."
But Horan had a steal to use on any of the remaining contestants, and he wasted no time using it to take Jessen on his team. Jessen said it was an honor to be on Team Blake, but since Horan had been trying to take Jessen since the Blind Auditions, she said joining Team Niall would be "a dream."
"I was looking for a big female voice, and I got one," he said.
You can see more of The Knockouts when tuning into The Voice, airing Mondays at 8/7c on NBC and available to stream the next day on Peacock.