NBC Insider Exclusive
Create a free profile to get unlimited access to exclusive show news, updates, and more!
Sign Up For Free to View
All of Niall Horan's Hit Songs, from One Direction to His Solo Work
The Irish singer-songwriter who is now a Coach on The Voice had a slew of hits before sitting in the big red chair.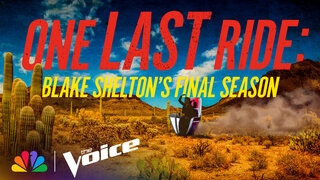 Niall Horan is currently honing the powerhouse Team Niall on Season 23 of The Voice after catapulting to fame on his very own competition show audition. When he's not in his big red Voice chair next to Kelly Clarkson, Blake Shelton, and Chance the Rapper, the Irish singer is honing his own solo music career, including his forthcoming studio album, The Show. 
Horan has released seven studio albums in total, as a solo artist and as a member of One Direction, with his eighth album coming later this year. He was part of five records with One Direction: Up All Night (2011), Take Me Home (2012), Midnight Memories (2013), FOUR (2015), and Made in the A.M. (2015). Horan's since released two solo albums — Flicker (2017) and Heartbreak Weather (2020) — with that third album, The Show, due out in June.
Check out Horan's biggest hits, from Billboard-topping albums to songs heard across the world. 
"What Makes You Beautiful" (from Up All Night with One Direction)
One of the biggest hit songs from One Direction's 2012 album Up All Night, this tune peaked at number 4 on the Billboard Hot 100 list. The official music video, which shows Horan on the beach with bandmates Harry Styles, Liam Payne, Louis Tomlinson, and Zayn Malik, has over 1.4 billion views on YouTube. 
"Slow Hands" (from Horan's solo album Flicker)
After One Direction announced that they would be disbanding in 2015, Horan launched his solo music career with his own platinum-certified 2017 studio album, Flicker. The record was a hit success, debuting at number 1 on the Billboard 200 chart. 
"Slow Hands" is Horan's most popular track on Spotify, boasting over 820 million streams. 
"Heaven" (from Horan's upcoming album The Show) 
This track from Horan's upcoming third solo album was an easy choice as the first single release. He told NBC Insider, "I think once you've listened to 'Heaven', you've got an idea of what you're going to get. There's a couple of obscure sounds in there as well. But the concept, the sound, you know, just the through line through the album was very loud."
Fans anticipating The Show's release can therefore get a solid feel for what the rest of the album will sound like when it's out in June. Horan also recently released an acoustic version of "Heaven." 
"Put A Little Love On Me" (from Horan's album Heartbreak Weather) 
Horan's second solo studio album, Heartbreak Weather, was released in 2020 to great critical acclaim. American Songwriter called the record "a stylistic leveling-up that swings for flashier theatrics, moodier ruminations, and a silkier vocal coating."
"Put A Little Love On Me" was the second single from the album, and was released in December 2019. Horan said on Twitter that he tried recording the song in a multitude of different ways, but ended up releasing the demo he had recorded on the first pass because he "just kept coming back" to it. 
"Night Changes" (with from FOUR with One Direction)
Another mega-popular One Direction song is "Night Changes" from the band's 2014 album, FOUR. The hit has over 980 million streams on Spotify alone, and part of its success can be attributed to a popular TikTok trend of using the song to showcase time passing. A popular TikTok audio with a clip of "Night Changes" has been used in over 380,000 posts—including one from Charli D'Amelio—and the #NightChanges hashtag has over 1.2 billion views on the app. 
"This Town" (from Horan's album Flicker) 
Another breakout hit from Horan's first solo album is "This Town," which currently has over 750 million streams on Spotify. In an interview about Flicker with Ryan Seacrest, Horan said that it was the first song he wrote for the album. The song itself is a guitar-heavy acoustic tune about pining for an old lover who's moved on, with heart-wrenching lyrics like "And I want to tell you everything / The words I never got to say the first time around." 
Watch Niall Horan on The Voice on NBC Mondays at 8/7c and next day on Peacock.