NBC Insider Exclusive
Create a free profile to get unlimited access to exclusive show news, updates, and more!
Sign Up For Free to View
Hear Why Blake Shelton Said 'Nobody Sounds Like' Tasha Jessen
The Pakistani-born singer, now living in Colorado Springs, wowed the Coaches in the Season 23 premiere with her rendition of "River."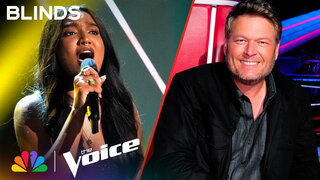 The Voice showcases a plethora of talent, though one woman wowed the Coaches for the Blind Auditions of the Season 23 premiere.
Longtime Coaches Blake Shelton and Kelly Clarkson, as well as newbies Chance the Rapper and Niall Horan, were taken aback by a rendition of Leon Bridges' "River" performed by 20-year-old contestant Tasha Jessen.
Alum Coach Shelton — noting (multiple times, to everyone's amusement) that this was his last season on The Voice — pleaded with the Colorado Springs-based singer to join his final Team Blake.
"Your voice is hard to define," Shelton remarked, "which is the best thing you could have going for you."
Born in Pakistan, it seemed talent ran in Jessen's genes, but her difficult upbringing made it hard for her to chase her dreams.
"Growing up, my parents were super musical; my whole family sings," said Jessen. "But life was hard in Pakistan because Pakistan is an Islamic country, and I was the one Christian kid in school."
Jessen claimed she "stuck out like a sore thumb" because her mother was too scared to let her leave home or attend birthday celebrations. By age 12, Jessen and her family fled Pakistan following religious persecution and moved to Thailand, leaving behind everything they'd ever known.
"We had so much chaos happening around us, and we forgot about music," Jessen explained.
Jessen eventually moved to the United States, having obtained her visa within the past year. She now lives with her husband, Maverek, the lead guitarist of her local church in Colorado, with whom she often collaborates.
Though Jessen's parents could not be in the United States for her performance, the three of them spoke on a video call where the mother and father expressed how proud they were of Jessen. Maverek, however, was by his wife's side.
"From the moment that I met her, she was the best singer I'd ever met," said Maverek. "And so it's just been amazing for her to land in the United States and then immediately just start pushing hard towards her dreams and her goals."
Jessen said it was a "dream" to perform before the Coaches, adding she hoped to "show little girls in Pakistan" that success was possible.
"I am writing music, but I've just always been so scared to share it with the world because I've been so scared of judgment," said Jessen. She added that, because of The Voice, she could finally step into her calling.
RELATED: Where Are Kelly Clarkson's The Voice Winners Now?
Shelton was the first to turn around in his red chair, with Horan following suit just a half beat later. Chance the Rapper also pushed his button to see the face behind the voice. While Clarkson didn't immediately turn, she later admitted, "I would have hit my button if no one would have pushed because your voice deserves to be here."
Clarkson agreed Jessen's voice was "gorgeous," with Chance the Rapper commenting she had "an undeniable talent."
"This is my last season as a Coach on this show, and I would be damn proud to have you on the last Team Blake ever," said Shelton.
While Chance the Rapper and Horan "flexed" about how Jessen could benefit by joining one of their teams, Jessen ultimately decided on Shelton, who gifted the singer with a shirt that read "I'm on Blake's LAST team" on the front. The back of the T-shirt read: "And all I got was this lousy T-shirt."
"Tasha looks like a star," said Blake. "Nobody else sounds like Tasha, and she's on Team Blake."
To see more of Jessen and other "off-the-scale" talent, tune in to The Voice, airing Mondays at 8/7c and Tuesdays at 9/8c on NBC and available for streaming the next day on Peacock.