NBC Insider Exclusive
Create a free profile to get unlimited access to exclusive show news, updates, and more!
Sign Up For Free to View
All the Niall Horan Songs That Have Been Performed on The Voice
Niall Horan may be a new Coach on The Voice Season 23—but his discography has been a part of the show for years.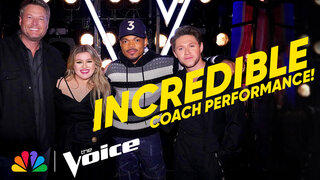 Not only will Niall Horan be a great addition to Season 23 of The Voice, he has some serious bops in his discography as well. His tunes are so well written, that multiple The Voice Artists have chosen to use them for their performances to show off their amazing voices. Check out these amazing Niall Horan covers on The Voice, below. 
Brayden Lape, "This Town" (Season 22)
Lape, who was only 15 years old at the time of his Blind Audition, received a chair-turn from Blake Shelton last-minute for his touching rendition of Horan's "This Town." 
"Waking up to kiss you and nobody's there, the smell of your perfume still stuck in the air, it's hard," Lape crooned gently with a soft, vulnerable tone.
"Yesterday I thought I saw your shadow running round, it's funny how things never change in this old town, so far from the stars," Lape continued with emotion. Meanwhile, some chattering could be heard from the Coaches' chairs. It was Camila Cabello, urging Shelton to press his button.
"You still make me nervous when you walk in the room, them butterflies they come alive when I'm next to you," Lape's vocals picked up in passion, causing Shelton to finally turn around.
"I was like, 'Blake, you need this person on your team,'" Cabello explained to Lape. "It's kind of singer-songwriter folk but with a pop sensibility. I'm telling you, this guy sounds like he could be on the radio. Blake, I'm telling you, you're 'gonna thank me for this later. This guy is your secret weapon." And her convincing worked!
Parker McKay, "Slow Hands" (Season 21)
This talented Season 21 Artist sang a cover of Horan's "Slow Hands" with a funky groove. "We should take this back to my place, that's what she said right to my face. 'Cause I want you bad, yeah, I want you, baby, I've been thinking 'bout it all day, and I hope you feel the same way," she riffed smoothly while the Coaches nodded in appreciation.
"Finger tips putting on a show, can't you tell that I want you, baby," McKay continued with some edgy rasp, prompting Kelly Clarkson to turn her chair around.
This clearly gave McKay a confidence boost, as she proceeded to soar into an impressive high note. When her performance concluded, Clarkson praised her for her unique combination of country, soul, and blues style.
Austin Percario, "This Town" (Season 21)
For an earlier rendition of Horan's "This Town" for the Blind Auditions, Austin Percario started his performance with a sweet, youthful tone.
"If the whole world was watching, I'd still dance with you, drive highways and byways to be there with you, over and over the only truth, everything comes back to you," he crooned.
"You still make me nervous when you walk in the room, them butterflies they come alive when I'm next to you," he continued as the audience cheered.
"Over and over the only truth, everything comes back to you," he concluded the tune while pulling off an impressive riff.
Although Percario is clearly talented, unfortunately, he didn't get any chair turns from the Coaches for his Audition. They complimented his voice, but John Legend referenced Percario's nerves and suggested he try the song in a different key.
"First of all, I love your tone. I literally said it as soon as you started singing," Kelly Clarkson chimed in. "That was like when I'm watching, like, a show, and there's this beautiful scene, that's the song. And you're the voice singing right then."
Watch The Voice on NBC Mondays at 8/7c and Tuesdays at 9/8c and next day on Peacock.