NBC Insider Exclusive
Create a free profile to get unlimited access to exclusive show news, updates, and more!
Sign Up For Free to View
Why Kala Banham's 'Impeccable' Audition Got Kelly Clarkson to Physically Hit Niall
The competition heated up on "The Voice" after first-time Coach Niall Horan blocked fellow Coach Kelly Clarkson from scooping up Florida native Kala Banham.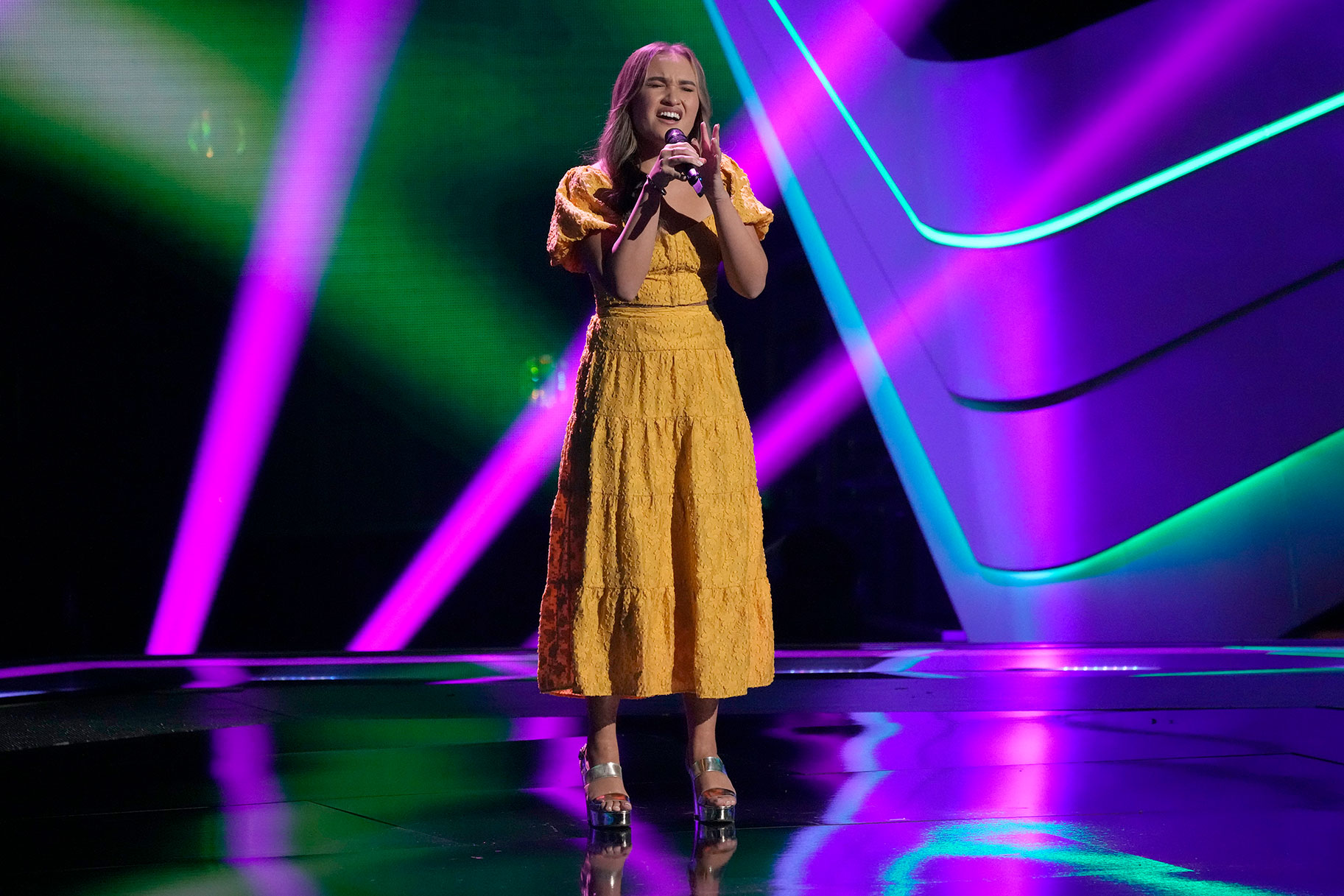 Things got physical Tuesday night on The Voice after Niall Horan strategically used his block to bar fellow Coach Kelly Clarkson from one "impeccable" singer.
Clarkson got up from her seat and playfully began to hit Horan with a "Team Kelly" jacket she usually gives to her team members after the block barred her from recruiting Florida native Kala Banham, who wowed the judges with her rendition of Joni Mitchell's "Both Sides Now," to her team.
"Where's my lawyer?" Horan quipped.
Horan is already making his mark as a first-time Coach on the singing competition, which began its 23rd season Monday, by using some carefully crafted moves to assemble his team.
Horan waited until he saw Clarkson's hand hovering just over her button before he made the move to block her. Coaches are given an extra set of buttons on their chairs which allows them to block another player from getting a particular Artist on their team.
"I got her," Horan said later. "Perfectly timed block. Take that one, Kelly Clarkson."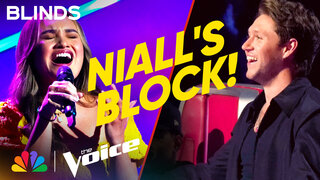 Clarkson — a multi-time past winner on the show — admitted she was "so sad" about the block and vowed to find a way to get Banham onto her team later in the competition.
"What a perfect song. You showed dynamics. Just seeing you emote like that you really felt the message and the words mean something to you. We would have been beautiful together," Clarkson lamented to Banham. "I'm going to steal you, mark my words."
As for his reasons for wanting Banham to join his team, Horan described her song choice as "impeccable."
"You did such a beautiful job on it," he said. "So brittle and so tender and the soft moment — and I haven't got a singer like you on my team."
He chose to use his one block of the season on Banham after being struck by her "storytelling voice," which he described as "so sweet" and "so beautiful."
"Kala, you get one block and I chose to use it with you," he said.
Taking Clarkson out of contention didn't guarantee that Banham would chose him, however. Horan still had to compete with Chance the Rapper, who was also hoping to convince Banham to join his team.
"You have the most unique voice that we've heard so far, and coupled with the most control and range, I don't have anybody like you on my team at all," he said. "I would love to bring you some options that maybe some of the other Coaches may not be as familiar with."
RELATED: Where Are Kelly Clarkson's The Voice Winners Now?
After Chance asked about her background, Banham told the Coaches that she had been "singing since [she] could pretty much talk" and was once in a competitive a capella group while attending performing art school.
After hearing the impressive pedigree, Clarkson could no longer hold back and got up from her seat to start hitting Horan with the jacket as he tried to fend off the attack.
Although Banham had previously said it had been her "dream" to work with Clarkson, she told Horan it had been an "honor" that he used his block on her and decided to join Team Niall.
"Team Niall is shaping up so well. Kala is the best addition I could hope for," Horan said. "I'm always looking for someone with a story to tell. Kala is the perfect example of that."
Horan may have won out in this battle, but it seems the crafty move also may have landed him on Clarkson's radar.
 "I feel attacked by Niall," she said. "I feel like he's coming for me, but It's fine. Maybe it's a good compliment that Niall blocked me. He's threatened. I see you."
Watch The Voice on NBC Mondays and Tuesdays at 8/7c and the next day on Peacock.