NBC Insider Exclusive
Create a free profile to get unlimited access to exclusive show news, updates, and more!
Sign Up For Free to View
See Why Niall Horan Got on One Knee and Begged Ross Clayton to Join His Team
Niall Horan may be a first-time Coach on The Voice, but he's already mastered some never-before-seen tricks to persuade sought-after artists like Ross Clayton to join his team.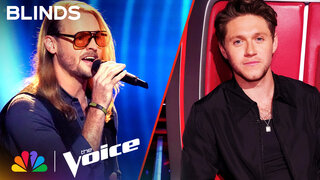 Niall Horan went to some drastic measures to secure the first member of his team — literally getting down on one knee and begging.
The playful plea paid off and country crooner Ross Clayton ultimately agreed to join Horan's team after getting a four-chair endorsement of his rendition of "Blue Ain't Your Color" by Keith Urban on the Season 23 premiere of The Voice.
It's Horan's first year as a Coach on the singing competition, but that didn't stop him from pulling out some never-before-seen tricks to get his message to Clayton as he competed with the other Coaches for the singer.
"I need to pitch you properly. I need a bit of privacy," Horan told Clayton, before pressing fellow Coach Blake Shelton's button, turning the chair away from the stage.
Horan then walked down the line of other Coaches, turning the chairs of fellow first-time Coach Chance the Rapper and veteran Coach Kelly Clarkson back toward the audience.
"How are you doing that?" a baffled Clarkson asked. "I never knew you could do that."
Once his chair was the only one still facing the stage, Horan made his pitch while standing in front of Clayton.
"Your voice is absolutely incredible," he told the married Oklahoma dad of three. "You have that country tone to your voice, but to me, I was hearing so much soul."
Horan referenced his own past finding fame through the 2010 singing competition The X Factor, where he was chosen as a member of the popular boy band One Direction before striking out on his own successful solo career in 2016.
"I'm telling you please, please," he said as he dropped to one knee. "Forget about whatever any of them said. That's why I spun them around, I didn't want to hear any more crap."
RELATED: Where Are Kelly Clarkson's The Voice Winners Now?
 Horan then tried to steer Clayton away from choosing Shelton, hilariously poking fun at Shelton's frequent references to it being his "last season on the show" by impersonating the country legend's voice.
"This is my last season on this show," he said, as Shelton laughed. "It would be an honor and a privilege."
Despite being called out, Shelton still did his best to try to woe Clayton once all the Coaches' chairs were turned back around to face the stage.
"I kind of hate to say anything now," Shelton said. "If I'm going to have to pitch myself to him, I'm going to have to talk about our kinship as Oklahomans. I would have to talk about, if I was pitching myself, the fact that Ross probably might like to get out and do some gigs and I just happen to have venues that he could do that in, one in Oklahoma."
After weighing the pitches of all four Coaches vying for him on their team, Clayton chose Horan, proving the unconventional recruiting method paid off.
"Niall, let's go," he said.
While later reflecting on the first artist to join his team, Horan said he was inspired by the singer's "many dynamics."
"He took us on a real journey through the song," he said. "The people of America are going to fall in love with this guy."
Clayton, a 33-year-old from McLoud, Oklahoma, gave up his pursuit of music after getting married and having three children.
"I was away from home and sort of reevaluating things," he said of his decision to delay his own dreams. "You know, is my time out here worth as much as my time with my kids? And to me, it wasn't, so I gave it up and I went home."
Five years later, Clayton, a senior product manager for a software development consulting company, was ready to "take a chance" and focus once again on his music, quickly impressing the Coaches with his talent.
Shelton also weighed in on Clayton's decision to join Horan's team, saying he was "happy" Horan won out.
 "Niall needed that one. I'm actually happy for Niall," he said. "I feel like Niall is going to take my seat on this show. Playing those kind of dirty tricks gives me confidence that he can be the liar he needs to be to cover for Team Blake and I."
Watch The Voice on NBC Mondays and Tuesdays at 8/7c and the next day on Peacock.