NBC Insider Exclusive
Create a free profile to get unlimited access to exclusive show news, updates, and more!
Sign Up For Free to View
This New Trio on The Voice Is Like a More Angelic Girl Named Tom
Ohio sisters Madi, Ana, and Bella comprise the trio Sorelle, and chose a Queen classic for their Blind Audition in Season 23 of The Voice.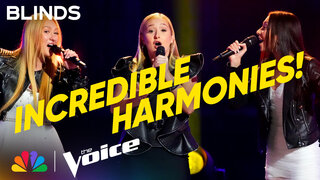 With not one, not two, but three voices, Sorelle turned heads on the premiere of Season 23 of The Voice, and also turned a few chairs during their rendition of Queen's "Good Old-Fashioned Loverboy."
The trio is made up of sisters Madi, 21, Ana, 20, and Bella, 15. (They say they weren't able to convince their brother to join them). Hailing from Lexington, Ohio, about an hour north of Columbus, the sisters are social media influencers, boasting 3.2M followers on TikTok.
Ana and Madi formed the group first and added Bella in 2019. The Blind Audition was one of their first performances as a trio.
"We feel very inspired by Girl Named Tom," the girls said during the premiere, adding, "It was crazy to see a trio win, and a family."
Madi shared the group loves Queen and looks up to their music.
"That's how we developed our harmony," Ana said. "We've spent our entire lives trying to use music to be a happy place for somebody. We hope that we can show the world what we're capable of."
As Sorelle's parents and an aunt watched backstage with Carson Daly, they began to perform "Good Old-Fashioned Loverboy." All of the Coaches looked surprised as a second and third voice joined in the song, with Coaches Kelly Clarkson and Blake Shelton trying to figure out if it was two or three people singing.
As Sorelle hit the lyrics "Hey, boy, where did you go?" Shelton said, "That's good enough for me" and turned his chair.  As the group sang, "Everything's all right, just hold on tight," new Coach Chance The Rapper turned his chair as well.
"What are you doing turning around, Chance, this is embarrassing," Shelton exclaimed when the group finished the song, getting jokes and jeers from his fellow Coaches. "I don't know if you guys know this or not, you might not know this, Chance, but this is my last season."
As new Coach Niall Horan joked there was a press release on Shelton's retirement from The Voice, Shelton continued his pitch to get Sorelle on Team Blake.
RELATED: Where Are Kelly Clarkson's The Voice Winners Now?
"I've worked with a lot of young people, had a lot of success with young people," Shelton said. "I would be honored to have you on the last Team Blake."
Horan told the ladies when he turned he regretted not picking them. Clarkson praised them as well.
"I thought it was really cool what you were doing," Clarkson said. "It's really hard to hold onto those dissonant harmonies all at once and not waver. That was really well done. I'm really stoked to see what you're gonna do on this show."
Chance asked Sorelle how they got started in music, and the trio told him of their millions of TikTok followers.
"I was kind of hesitant about some of the dissonant harmonies you guys were putting together, but I started to notice over time that it was intentional — really giving it this theatrical, almost show tunes feel to it, that I think is really dope," Chance told Sorelle as he pitched for them to join Team Chance. "Hip-hop artists like Kendrick Lamar and Drake, they find younger artists like you guys that put together harmonics and sample those — those become the biggest records you hear on the radio. And I'd love to put you guys in position to be able to create some of that stuff from scratch like that."
Shelton immediately tried to turn the group back to his side.
"You could pick Chance, with the goal of some day hoping to be featured on somebody else's record, or you could pick Team Blake and make your own record," Shelton said.
But Clarkson and Horan were quick to push the girls back toward Chance.
"Isn't that how Sam Smith started: featured on a dance track?" Clarkson asked, as Chance and Horan nodded. "Just saying, it's not a bad plan."
Chance took one last shot at swaying Sorelle to his team, telling them and the audience he wanted to see if the group could do a three-part harmony of a line from a song from the movie, "The Wiz." Chance sang, "What could I do?" to the group, who repeated it back, as Chance sang "Tell me what, what!" back and forth with the trio.
"I'm telling y'all, I got y'all, I got a vision," Chance told Sorelle.
It's no surprise Sorelle chose Team Chance over Team Blake.
"Chance absolutely slayed me on Sorelle," Shelton said. "Next thing I know he's producing a record live in front of our eyes. Once that happened, I knew that it was over for me."
Chance gave Sorelle one of his signature "3" caps, promising to get two more so the whole group would have one. He previously told PopSugar the caps represent Coloring Book, his third independent mixtape.
"I brought my own, special edition, The Voice '3' caps that are only available for the people on Team Chance, and they look good in it, I'm not going to lie," Chance said of Sorelle.
The trio is his first artist as a Coach on The Voice.
"Sorelle is amazing. I'm so excited to have a group on my team," Chance said. "As a producer, I love collaborating with vocalists, different writers, choirs. I think Sorelle will have great success in this industry because they can create new arrangements. I look forward to seeing what they're going to do."
Watch The Voice on NBC Mondays and Tuesdays at 8/7c and the next day on Peacock.