NBC Insider Exclusive
Create a free profile to get unlimited access to exclusive show news, updates, and more!
Sign Up For Free to View
An Official Recap of Team Kelly on The Voice 2023
Kelly Clarkson is a seasoned Coach on The Voice—but does she have the team to win Season 23?
Kelly Clarkson has won The Voice as a Coach an impressive four times, and she has every intention of taking home the prize for Season 23—even if it is Blake Shelton's last. 
"Will I go any easier on Blake knowing it's his last season? Do you know me at all? No!" Clarkson told NBC Insider. "Do I hope secretly that he wins his last season? Maybe. But am I going to let him have it? No! I'm going to work for my Artists, and I hope they win!" 
Of course, Clarkson's just being playful. The pop icon and Shelton are actually good friends, and they've talked about the emotions that come with the last season for Team Blake. 
"I actually have been talking to Blake a bit about this being his last season. And I'm like, 'It's not gonna hit you until afterwards. It's gonna hit you. It's been a part of your life for so long. And it's gonna hit you after,'" Clarkson told NBC Insider. "I think he knows that, but I also think he knows that it's time. He's been doing it a long time, and I think it's a really cool way that we all know he's leaving so we get the time to, like—I mean, I can't stand him, but I also love him. So we get the time to actually, like, lift him up and say how great he is. He is the ultimate Coach on this show. Everybody knows that. He's won the most, and he, honest to God, helps the Artists afterwards. And it's an incredible thing that he's done for so many Artists. It's a loss for The Voice."
It certainly is. As we dive further into this historic season, be sure to check back here for all your updates on Team Kelly, including Saves and Steals. We'll be recapping it all, below. 
Team Kelly after Live Shows results 
D. Smooth was voted to advance to the finale, airing May 22 and 23rd. Gina Miles from Team Niall won the competition. 
Team Kelly after Playoff results
In the Playoffs, Coaches must narrow their teams down from five to two. Those two Artists will compete in the Live Shows. 
After the Playoffs, Clarkson selected D. Smooth and Holly Brand to move forward in the competition. ALI, Cait Martin, and Neil Sasich were all sent home. 
Team Kelly after Knockout results
ALI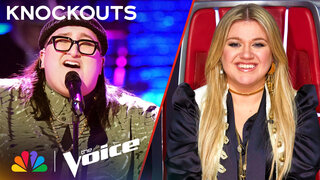 Knocked Out: Marcos Covos
Song: "Best Part" by Daniel Caesar
"My dad was a drummer. My mom was a singer," ALI said when revealing why she chose "Best Part". "They've believed in me, even at my lowest points. The song is definitely showcasing my range a little bit. It's always been a dream of mine to be at least one person's inspiration." 
Cait Martin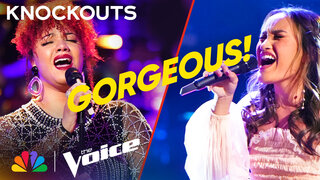 Knocked Out: Kala Banham
Song: "All the Man That I Need" by Whitney Houston
Though Clarkson confessed that both Martin and Banham "impress the hell out of me", in the end she went with Martin. 
"I'm trying so hard not to curse. I'm just so floored," Chance said, but in the end he agreed with Clarkson because Martin took "that round by the throat. It's Cait all the way."
Holly Brand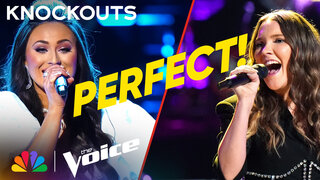 Knocked Out: Rachel Christine
Song: "Blue Moon of Kentucky" by Bill Monroe & the Bluegrass Boys
"She's like a country girl that hits Minnie Riperton, Mariah [Carey] whistle notes," Clarkson told producers. "I think she just stands out. I would be afraid of her in the finale if I were all the other singers."
Neil Salsich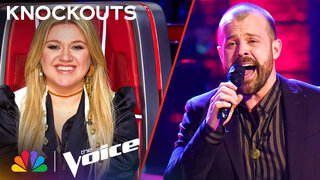 Knocked Out By: Grace West on Team Blake
Song: "Takin' It to the Streets" by The Doobie Brothers
"I'm just excited to work with Neil; he can sing anything," Clarkson said after Stealing the Artist from Team Blake. "I think he is sneakily one of the best singers in the competition."
D. Smooth, Playoff Passed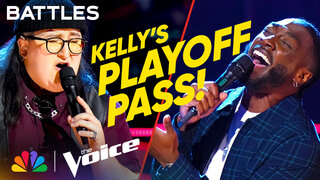 Song: "Unaware" by Allen Stone
"He's one of my favorite people I've ever had on my team, ever, and I had to use my Playoff Pass on him because I just want him to advance," Clarkson said. "I just want him to be in the Playoffs, and I want to see what he's going to do. He's hungry for it, y'all. He wants it."
Watch The Voice on NBC Mondays at 8/7c and next day on Peacock.